Showalter has thriving O's focused on task at hand
Baltimore skipper doesn't want to talk about his club's likely playoff berth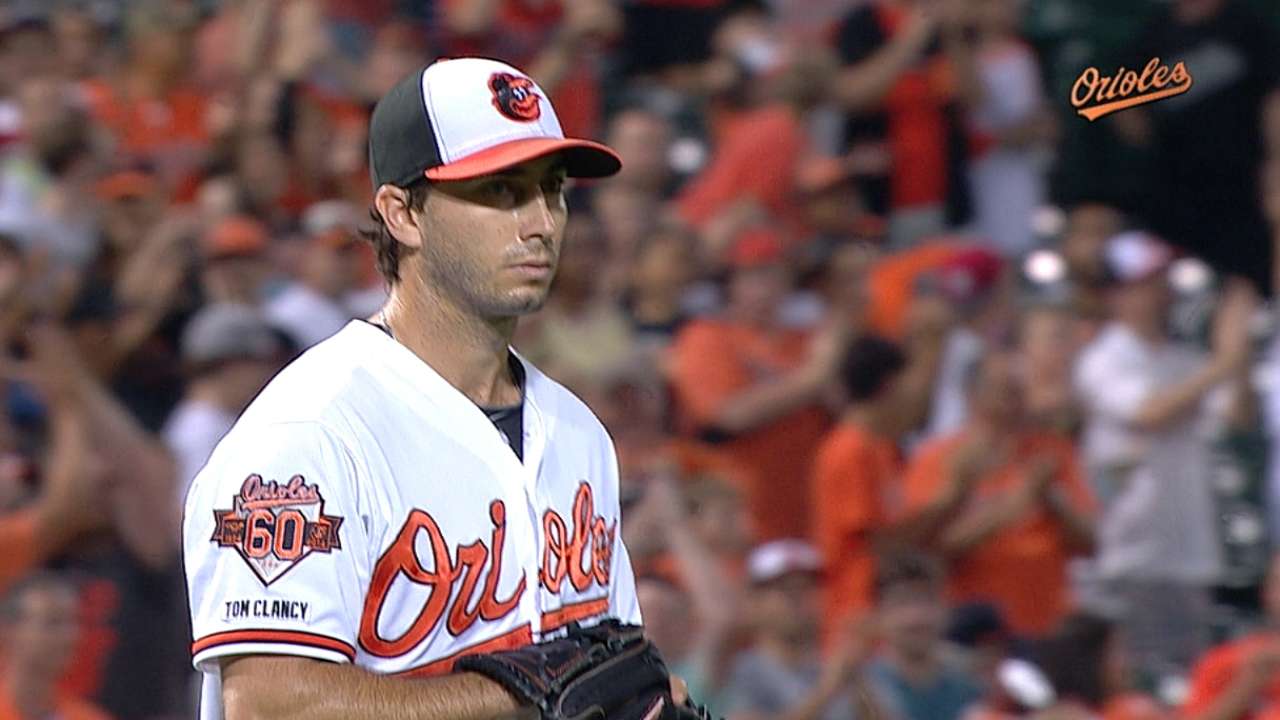 BALTIMORE -- Buck Showalter's agile baseball mind roams freely. At any given moment, seemingly out of nowhere, he may express an opinion about expanded September rosters, observe that Ty Cobb once stole first base before a rule change disallowed the tactic, wonder about another team's managerial plans or ponder the impact of a casino that recently opened near Oriole Park at Camden Yards.
There is one subject, however, that the Orioles' manager doesn't want to touch with a 10-foot fungo bat. And that is the enviable spot that Showalter's team is in, holding the second-best record in baseball and the biggest lead of any division leader, with just 3 1/2 weeks remaining in the regular season.
Part of that discomfiture is natural. No champagne has been uncorked yet, and the O's still have many goals to reach.
"I know how fleeting it all can be," Showalter explained. "When I hear a GM say he's on a five-year plan? I want day-to-day, hour-to-hour. 'What can we do this hour to get better?' And then see where it takes you."
That's the only way to approach the longest season, of course. Never get too high, never get too low, and all of that. But it's also a topic Showalter is going to be asked about a lot in the upcoming weeks.
Because the Orioles are one of the best stories in baseball and Showalter -- who took over a club in July 2010 that would end up losing 96 games -- is deservedly getting much of the credit.
"He's the most prepared person I've ever met. I feel like he knows everything that's going to happen before it happens," said shortstop J.J. Hardy. "All the guys in this clubhouse respect him. I think that's a huge thing. And on top of all that, he's really smart and knows how to manage the game."
"Buck instills that work ethic in his players by the way he goes about his job on a day-to-day basis," added executive vice president of baseball operations Dan Duquette. "And he demands good defense at every position. So the players know that to play for this ballclub, they have to be alert and they have to bring their gloves and do their job in the field."
There is a perception out there, which Showalter disputes, that he is responsible for everything from the more than 120 roster moves the O's have made this year to the stadium club menu.
"There are things that the front office brings that I can't and won't," Showalter said. "I just don't possess the skills. And there are things down there that have got to be [done by the uniformed personnel]. All the good organizations are able to mesh those two things. And both parties feel comfortable with what they bring. I embrace all the numbers and everything. But at some point, [the players are] human beings, too. And the good organizations are able to bridge those two factions.
"We sit in a room and we bang it around. And when we come out of the door with a decision, it's the organization's decision. At the end of the day, we make decisions as a group, and I think the players respect that. We know we're dealing with human beings and we don't just callously come to a decision. Whether it be scouts, whether it be player development people, whether it be that [coaches] room in there, whether it be everybody upstairs, I think the greatest accolade you can pay a man or woman is to ask their opinion.
"Since I've been here, whether it's me or Dan or [former general manager Andy MacPhail], nobody has [said], 'This is what we're doing, and I don't want to hear about it.' It's more, 'What do you think?' I don't know how everybody else does it, but that's the way we do it. You know if you come to this organization, you're going to get your opinion asked. And it's going to matter."
Showalter is also quick to credit those who came before him -- guys like MacPhail and former manager Dave Trembley -- for the groundwork that was done before he arrived, probably understandable since the 1996 Yankees and the 2001 D-backs both won the World Series the year after Showalter left.
"You can always look back at a situation that gets better and see some people who took some bullets along the way," he said. "It took a lot of work, and some of it was done before I got here. We're not there yet. We've had a winning club now, won more than we've lost, but is that good enough? There's only one team happy at the end of the year."
Baltimore's payroll of $105 million ranks in the middle of the pack. The Orioles embrace the reality that they're not going to be bidding up the price of the top free agents each winter, and they have even managed to turn that into an advantage.
"There's a good morale here because [Double-A] Bowie and [Triple-A] Norfolk and [Class A] Frederick, they know that's where we're going," Showalter explained. "When we go after six-year [Minor League] free agents, we can out-opportunity some of the higher-payroll teams. And we're proud of that. There's a reputation in the game that if you sign with the Orioles, you're going to get an opportunity. Because we're not always going to be looking in somebody else's back yard. We're going to look in our own first, and shame on us if the answers aren't there."
Showalter managed the Yankees when he was 36 years old. He's now 58 and in his 15th season managing in the big leagues. Showalter has won the Manager of the Year Award twice and has been runner-up two other times. But he's never been to the World Series, another understandable caution for not getting carried away.
Baseball can be a difficult game, a maddening game, a frustrating game, a humbling game even for teams that seem to be on cruise control. That's why Showalter is so adamant about staying focused, sticking to the basics.
"We ain't reinventing the wheel. We ain't got all the answers," Showalter said. "People talk about the 'Baltimore Way' or this and that. No. It's the 'baseball way,' and everybody's trying to do it. It's not just us. It's pretty simple. It's not complicated.
"I don't think there's ever been an increment put together that's better than 90 feet. It's about figuring out ways to get 90 feet and ways to keep them from getting 90 feet. If a guy hits 30 home runs a year, what percentage of his at-bats are they? Games are decided over the long haul by the ability to stop 90 feet and gain 90 feet, however it may be -- holding runners, defending the ball, turning double plays, bunting, foot speed."
And the O's have done that often enough and consistently enough this season to be in a position that Showalter really doesn't want to talk about.
Paul Hagen is a reporter for MLB.com. This story was not subject to the approval of Major League Baseball or its clubs.