Ubaldo hopes to regain form in bullpen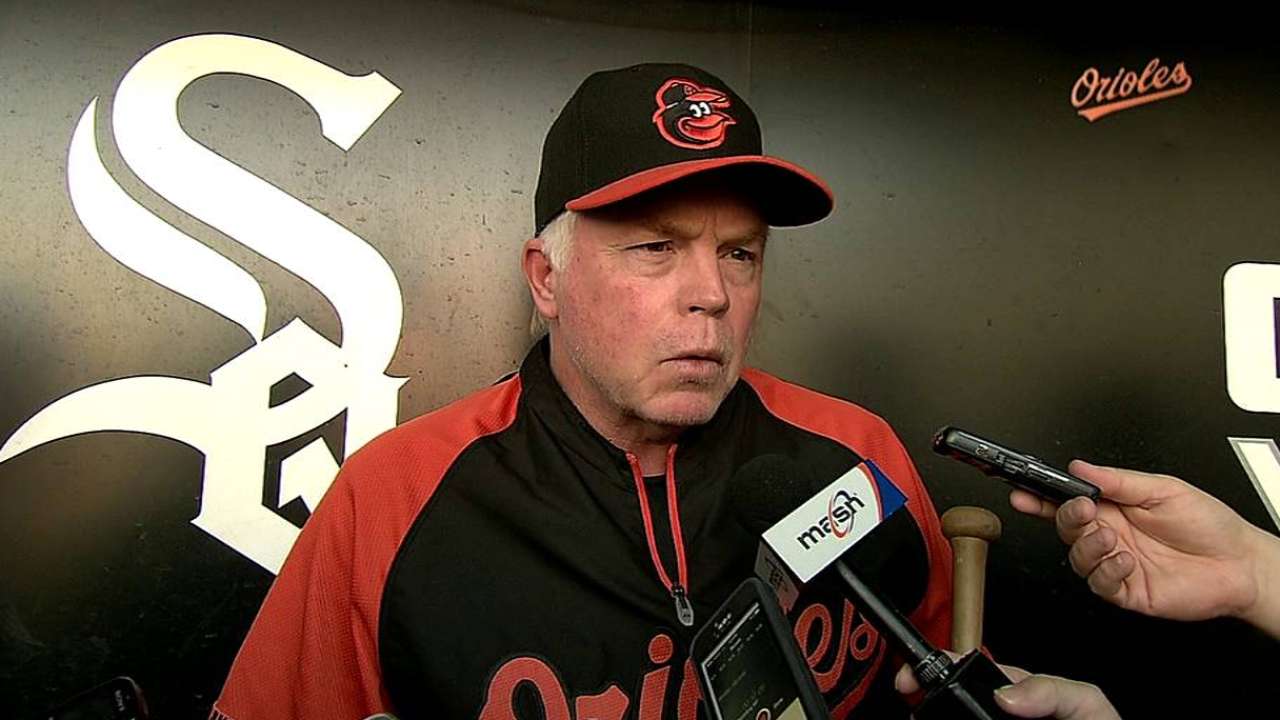 CHICAGO -- A day after he received word of his demotion to the bullpen, Orioles right-hander Ubaldo Jimenez said he'd try to make the best of the situation.
"They are doing whatever is best for the team," said Jimenez, who met with manager Buck Showalter, pitching coach Dave Wallace and bullpen coach Dom Chiti on Tuesday afternoon. "The guys have been pitching really good in the rotation and definitely we all want to do the same thing, and that's making the playoffs and putting the team in the best position."
Jimenez, who allowed six earned runs over 4 1/3 innings in his last outing, hasn't been able to do that for the Orioles this season. Signed to a four-year, $50 million deal -- the largest for a free-agent pitcher in franchise history -- the righty has struggled with inconsistency. Jimenez leads the American League in walks, despite missing a month with an ankle injury, and is 4-9 with a 4.83 ERA.
"It's been a tough one," Jimenez said of his 2014 season. "But it's part of baseball. Baseball is hard. There is nothing easy about it. You have to find a way to keep going and be ready for whenever the team needs me."
When that could be is anyone's guess. The Orioles, who will have Miguel Gonzalez take Jimenez's spot in the rotation, have one of the best bullpens in baseball and fitting in the struggling righty, who has made one career relief appearance, won't be easy.
"It's my understanding that there probably won't be a lot of opportunities, so I have to do anything possible to get ready, like probably when I play catch, after the games to throw a little bit to the catchers so I can be ready," Jimenez said.
"Hopefully, whenever there's a chance, I have to try to do my best. That's why we're here. That's why we're all here, to help the team make the playoffs."
The news wasn't a total shock, with Jimenez fielding questions from the media about it on several occasions. And while the bullpen is relatively foreign to him, Jimenez said he will have to find a way to make it work for the time being
"It's a little bit disappointing, it's a little bit hard, but like I say, we're all here for the same thing and that's hopefully getting us into the World Series," Jimenez said. "This is no time to be selfish or to be putting your head down, like this is the end of the world. You have to keep going for the team."
Brittany Ghiroli is a reporter for MLB.com. Read her blog, Britt's Bird Watch, and follow her on Facebook and Twitter @britt_ghiroli. This story was not subject to the approval of Major League Baseball or its clubs.