Davis puts himself in No. 2 spot, O's go with it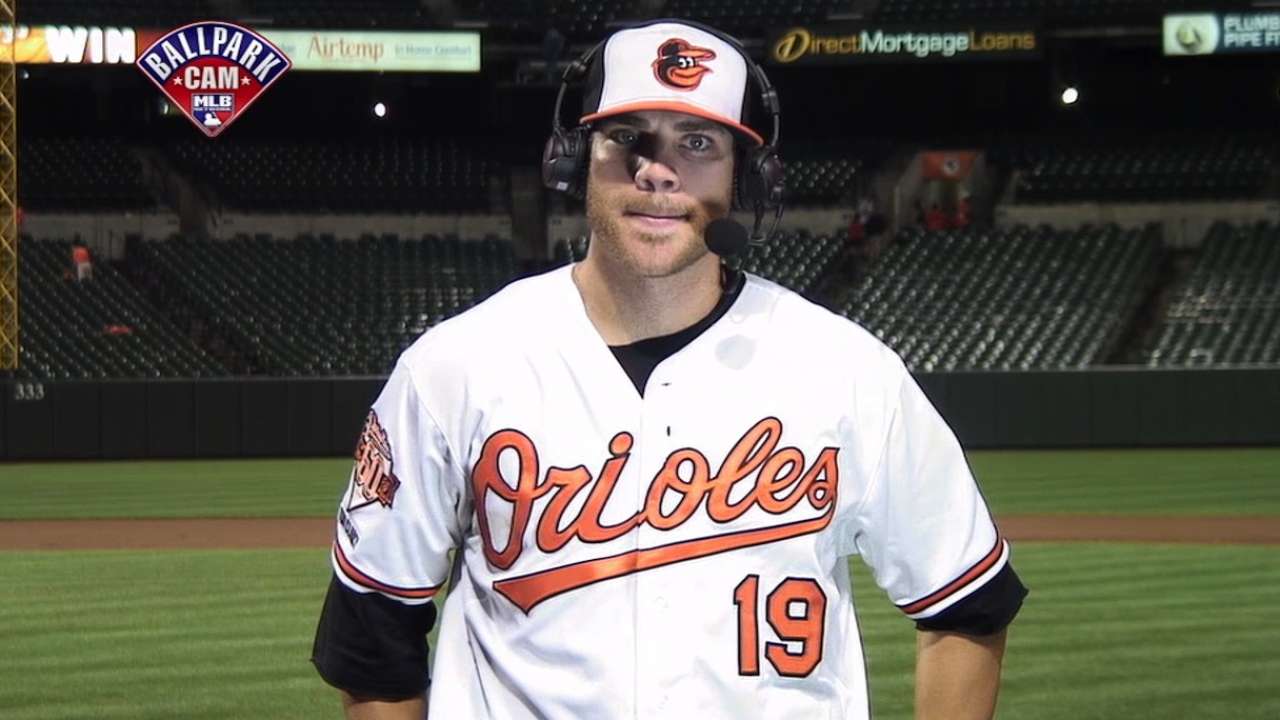 BALTIMORE -- Every day since Chris Davis joined the Orioles three years ago, the slugger has placed his magnetic name card somewhere nonsensical on the lineup board outside the clubhouse. Sometimes he's playing the outfield. Other times he's pitching and batting ninth.
On Wednesday, he used one of those familiar jokes. Davis made himself the No. 2 hitter.
"And today was the first day in three years that I actually put my name in the lineup and they just filled the lineup in around me," Davis said. "Hard work and determination does pay off."
With Manny Machado, the usual No. 2 hitter and third baseman, heading to the disabled list, the O's opted to let Davis slide right into that role. Davis will move back across the diamond from his usual first base and move up from his usual No. 5 spot in the order to bat second.
Davis had never started as a No. 2 hitter and was 3-for-5 with a home run in his career in that spot entering Wednesday. When Machado went down with a right knee sprain during Monday's 11-3 win against the Yankees, manager Buck Showalter used Davis to replace him. Davis went 2-for-3 with a home run.
"It was the first time I had two hits since I don't know when, that's bad," Davis said. "So I think, like I said, Buck's trying to keep the lineup in the same spot it has been all year. Try to keep things the same."
Davis took some early work at third base before Wednesday's game to prepare for a return to his old position. He's played third base four times this year and played 38 games there with the Rangers in 2008, so it won't be a new adventure. Nor will it likely be an extended one. When shortstop J.J. Hardy returns from a left thumb sprain this weekend, either Ryan Flaherty or Jonathan Schoop can move to third and Davis can go back to first.
As much as anything, Davis and the Orioles hope a change can be a spark for the struggling All-Star. When Machado went down, teammates told Davis, who was batting .197 with 21 home runs and led the American League with 139 strikeouts entering Wednesday, "There's hits in the two-hole."
"Don't be scared to put me in the two-hole," Davis told Showalter. "Apparently there's hits there."
Showalter took his advice.
"Be careful what you ask for, young man," Showalter said.
David Wilson is an associate reporter for MLB.com. This story was not subject to the approval of Major League Baseball or its clubs.