Red-hot Joseph homers in fifth straight game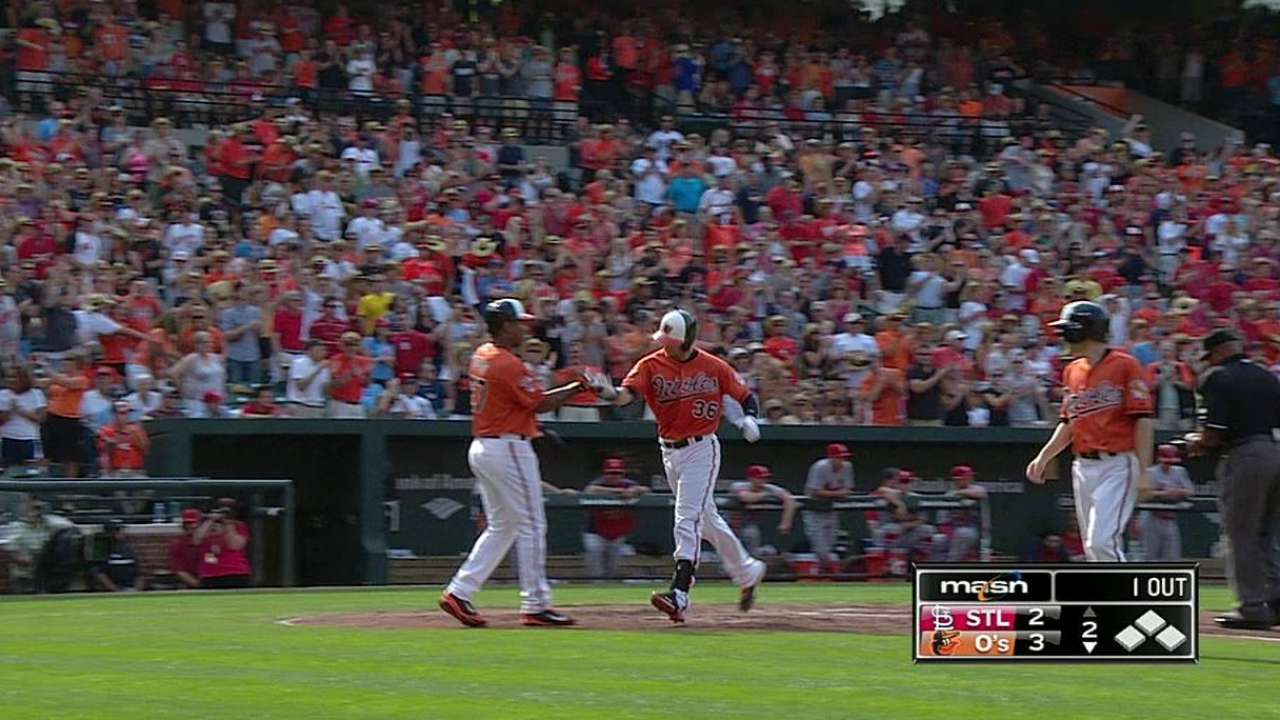 BALTIMORE -- As Caleb Joseph crossed home plate, he couldn't hold his emotions any longer.
The catcher slapped hands with Jonathan Schoop and Delmon Young. As he jogged toward the dugout he pumped his fist and let out a yell. Even the stoic rookie had to celebrate after homering for the fifth straight game to set an Orioles record for catchers.
"It's just a big whirlwind of emotions," the 28-year-old Joseph said. "You set a record and maybe seven, eight months ago I was thinking about hanging it up. Every day in the big leagues is such a blessing and especially to be on this team with this group of guys and to be in first place -- it's just a great feeling.
"That's probably the most animated you'll see. I was excited to hit that one."
With a runner on first base, Cardinals starting pitcher John Lackey delivered a first-pitch fastball to Joseph over the heart of the plate. The rookie turned on the 92-mph heater and belted it toward center field. Jon Jay charged to the warning track, leapt toward the fence and the ball squeaked by his glove and over the fence.
The Orioles took a 3-2 lead in an eventual 10-3 victory and Joseph became the 15th catcher since 1914 to homer in five straight games.
"I don't know if I've ever hit five in a row before," said Joseph, who smacked 22 home runs with Double-A Bowie in 2013. "I hit quite a few last year, and I know it's in there, and I've known since I've been here that it's in there. Not that you're trying, but it's just about making solid contact, and then whatever happens after that happens. You know, sometimes you miss low, but you hit it square and that's kind of where you get the home runs.
Joseph, who missed Friday's win against the Cardinals due to a family medical emergency and had a day off on Wednesday, has collected the five home runs against four different teams. His streak began with a solo shot against the Mariners on Saturday. He had the next day off and continued his streak with a homer against the Nationals on Monday.
During the O's three-game series in Toronto, Joseph added homers on Tuesday and Thursday before becoming the second catcher in the Majors this season to homer in five straight games on Saturday. The Reds' Devin Mesoraco also homered in five consecutive games from June 20-25.
"I'm not talking about it," manager Buck Showalter said, trying to avoid a jinx. "I know he is. I think I'm more impressed by the way he and Nick [Hundley] are catching our pitching staff."
Joseph's streak leaves him one home run shy of the Major League record held by New York Giants catcher Walker Cooper, who homered in six straight games during the 1947 season. Joseph is also one homer shy of the club record for consecutive games with a homer regardless of position. Chris Davis and Reggie Jackson each hit home runs in six straight.
The home run on Saturday is Joseph's eighth of the year and brings his batting average up to .225. Before this five-game stretch, Joseph was batting .199 with three home runs in 48 games.
"Winning's fun," Joseph said. "Winning is the cure to everything, so it's just kind of one of those things where it just kind of came out. I'll try and keep it low key next time."
David Wilson is an associate reporter for MLB.com. This story was not subject to the approval of Major League Baseball or its clubs.