Miller wants to 'seamlessly fit in' to contending team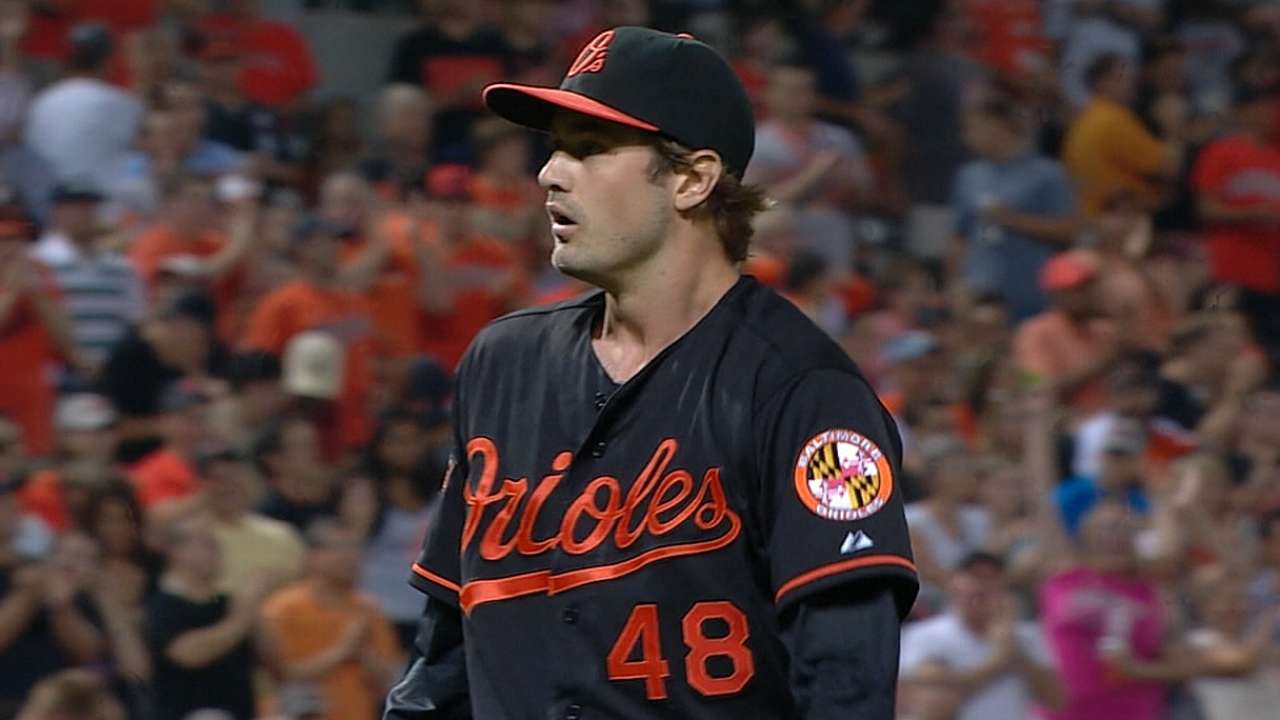 BALTIMORE -- When Andrew Miller arrived at Oriole Park at Camden Yards on Friday, he still sported one of those beards that the 2013 Red Sox became famous for.
Several hours later, he was clean-shaven. Word had been passed along to him that a beard like his wouldn't fly in Baltimore.
"That's fine. I just want to fit in," Miller said. "I don't want to be anything extraneous or unnecessary. I want to just seamlessly fit into this team and contribute where I can."
The O's traded pitching prospect Eduardo Rodriguez for Miller about an hour before the Trade Deadline on Thursday. The Orioles expect him to contribute immediately and give a boost to a bullpen that already is one of the best in the American League.
With a 2.34 ERA and 14.7 strikeouts per nine innings with Boston, Miller is in the midst of the best season of his career. Baltimore's 3.31 bullpen ERA is the fifth best in the AL.
"These guys have been really good. I know they've got some really good arms and a pretty good mix, a pretty good balance out there. Whatever's asked of me, I want to fit in. I know these guys are throwing the ball really well out there. That usually rubs off on everybody else, so I'm hoping it rubs off on me."
Miller gives the O's four lefties and three righties in the bullpen -- righty Ryan Webb was designated off the 25-man roster to make room for Miller and heads to Triple-A Norfolk -- and his major appeal is his ability to get batters out on both sides of the plate.
Lefties are batting .148 against him this season and righties aren't much better at .178. Statistically, he ranks right with Zach Britton and Darren O'Day as the best relievers in the Orioles' bullpen.
"This guy's pitchd in the American League East," the manager said. "You can tell he's excited to be here. He's heard a lot of good things about the people he's been around. He'll pitch."
During Friday's 2-1 win against the Mariners, Miller entered in the eighth to face a pair of lefties and a switch-hitter. After receiving a standing ovation, he got Dustin Ackley to ground into a forceout, walked Robinson Cano and ended the inning by inducing first baseman Kendrys Morales to ground into a fielder's choice.
"Pretty cool reception," Miller said. "I wasn't expecting anything like that. I'll remember that for sure."
What makes him most excited is the prospect of pitching in a pennant race. He was in Boston during the Red Sox World Series run last season, but his season ended in July when he broke a bone in his left foot. With a 2.64 ERA, 2013 was the best season of his career at that point.
For the O's, he hopes he can make that sort of contribution on the field as his team plays meaningful games in the fall.
"I injured my foot last year and missed out on all the fun," Miller said. "I felt like I certainly contributed to that team and I was a contributing member of winning games in the first half and unfortunately just couldn't do in the second half. Hopefully some of that rubbed off on me."
David Wilson is an associate reporter for MLB.com. This story was not subject to the approval of Major League Baseball or its clubs.