Ubaldo feeling good following first rehab start
O's right-hander waiting for next step, may throw this weekend at Triple-A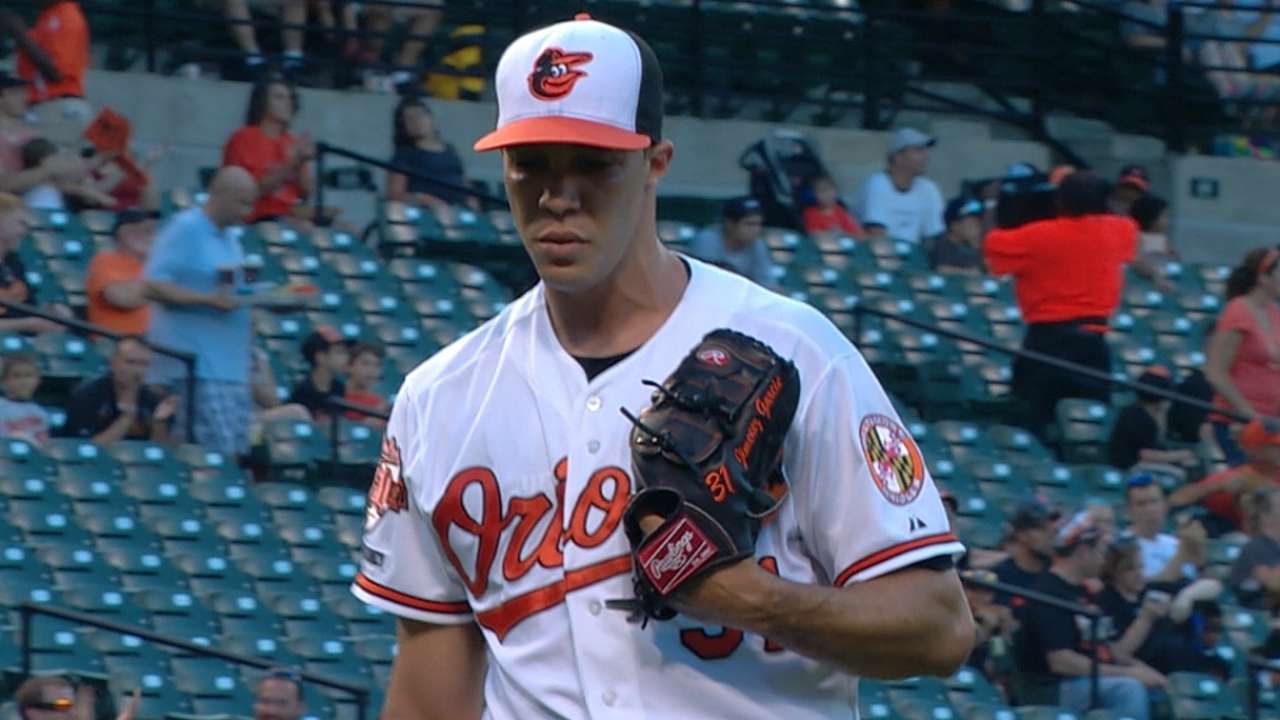 BALTIMORE -- A day after allowing one unearned run in 4 2/3 innings of his first rehab start for Class A short-season Aberdeen and splurging on steak and lobster for the IronBirds' clubhouse after the game, Ubaldo Jimenez returned to Camden Yards on Wednesday.
"I feel really good," said Jimenez, who was placed on the disabled list with a right ankle injury on July 13. "I was able to throw all my breaking balls, mostly for strikes. I was able to throw 74 pitches. I covered first base and third base. That was the main thing, just seeing how the ankle would respond."
Jimenez allowed five hits, three walks and struck out three batters. He also threw a wild pitch.
Jimenez said his ankle "feels good" and he is awaiting the next step. He will throw a side session later in the week before pitching in a game this weekend, either on Sunday or Monday for Triple-A Norfolk or for the O's in the following week.
"I want to see how his ankle feels today," manager Buck Showalter said before Wednesday night's game against the Angels. "I think if that feels well and the side goes well, then we know we have basically two options."
Baltimore's rotation has gotten by without Jimenez, who signed a $50 million deal this past offseason. Only Bud Norris, who was working his way back from injury, has an ERA higher than 3.43 since Jimenez last pitched on July 5.
Jimenez is 3-8 with a 4.52 ERA and 88 strikeouts. His 60 walks are still the most in the American League.
"You don't want to be the guy to mess it up for the other guys," Jimenez said. "I know that the guys have been doing a really great job, so you just want to be part of that kind of rotation."
David Wilson is an associate reporter for MLB.com. This story was not subject to the approval of Major League Baseball or its clubs.