Ubaldo headed to DL; Gausman to return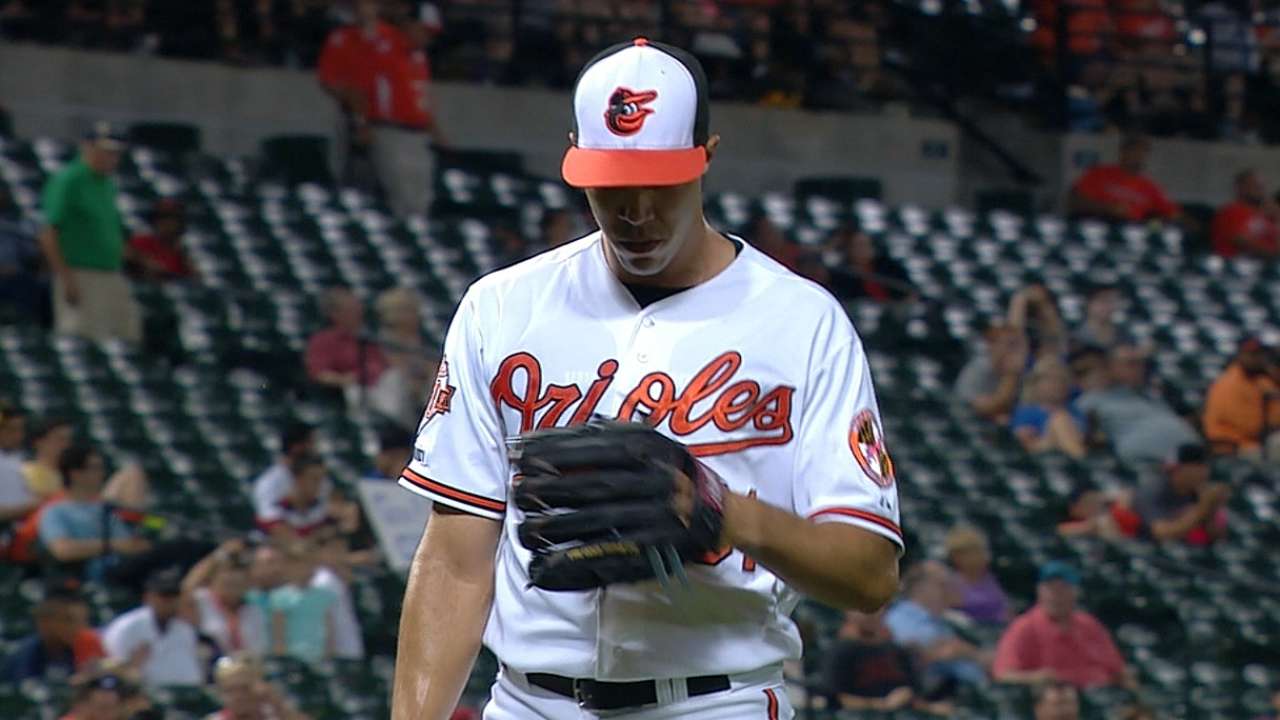 BALTIMORE -- Ubaldo Jimenez is headed to the disabled list with a right ankle sprain that he suffered on Wednesday. Jimenez will be replaced on the roster by right-hander Kevin Gausman, who will start on Sunday against the Yankees.
On a scale of 1-10, manager Buck Showalter said that Jimenez's pain is "an eight."
"He stepped in a hole in the parking lot," Showalter said of Jimenez, who suffered the injury outside of his Baltimore apartment. "We were looking at it today. It's pretty puffy, taped up. He tried to take a work day yesterday. We were hoping that it would resolve somewhat today. It did not and he's not going to be able to start tomorrow, so [we'll] DL him ... and have him ready post-All-Star break."
Gausman, who was on his way to Camden Yards on Friday afternoon, took a "light side day" on Thursday for Triple-A Norfolk, and he has been shuttled back and forth to the Minors despite pitching well. He has allowed one run or fewer in four of his past five Major League starts.
Jimenez has had a similar injury with Cleveland, and he was shut down early in the 2012 season. Signed to a four-year, $50 million deal this past winter, the news of his injury on Friday is the latest in a disappointing first half for Jimenez, the most expensive free-agent pitcher signing in Orioles history. He went 3-8 with a 4.52 ERA in 18 games, including a 1-6 mark with a 5.29 ERA in nine starts at Camden Yards.
"I understand how things work with people that make a living making light of things like this, but he's frustrated by it," Showalter said of Jimenez. "I would a lot rather have him healthy and pitching."
Showalter said because the O's are recalling Gausman within the 10-day window, they can't backdate Jimenez to his last start. He would be eligible to pitch the sixth game of the second half, though that's not guaranteed, and it will be based on Jimenez's rehab progression.
"If it wasn't because of the All-Star break, we might wait a couple days [to DL Jimenez]," Showalter said, "but also with it being the same ankle he had done in 2012 and looking at how long that took, with ankles, I kind of learned that you take a look at the history with them."
Brittany Ghiroli is a reporter for MLB.com. David Wilson is an associate reporter for MLB.com. This story was not subject to the approval of Major League Baseball or its clubs.