Jones all about having a good time at Derby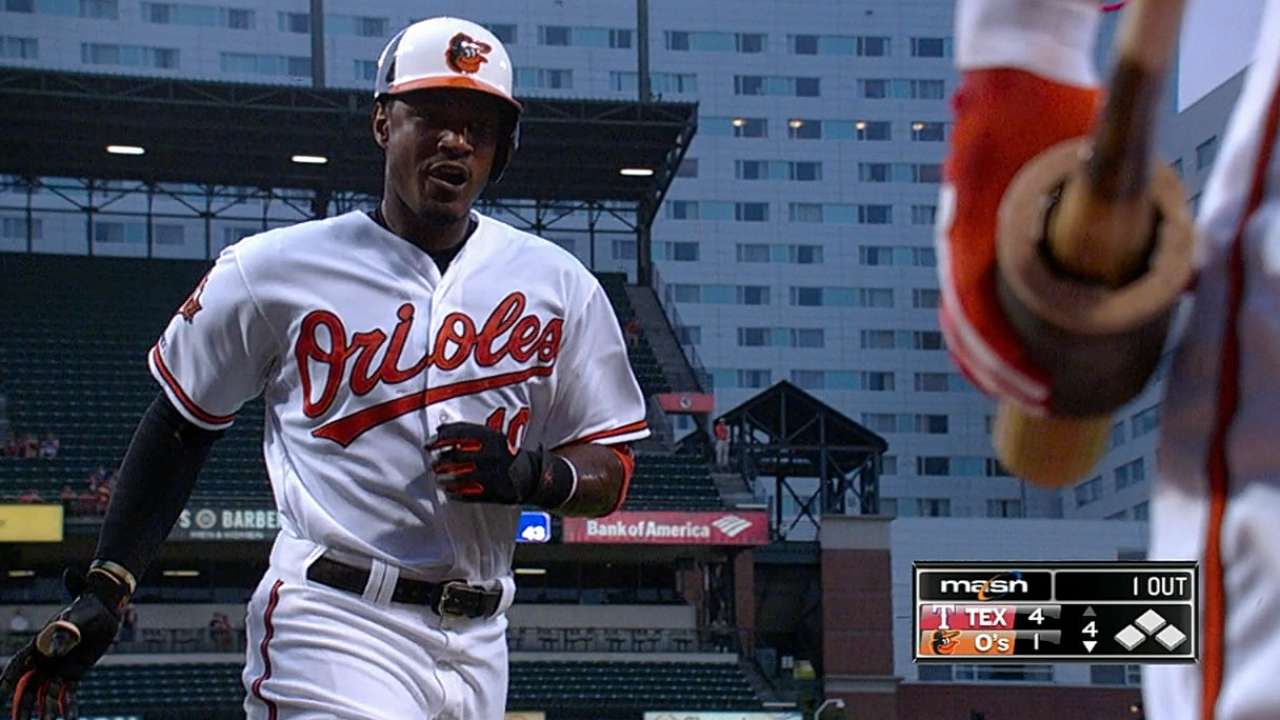 BALTIMORE -- The least of O's All-Star outfielder Adam Jones' concerns is that participating in the Gillette Home Run Derby is going to mess up his swing. In fact, he doesn't seem to be taking the entire competition too seriously at all.
Of course, he wants to go out and win, but he's not worrying about all the minor details. Like that new bracket setup that will be debuting this year.
"I don't know the format," the outfielder said. "I'm going to go there and have some fun."
Jones will bring his free-swinging reputation to Target Field at 8 p.m. ET on Monday (watch on ESPN) for the first Home Run Derby of his career. Two of his teammates -- Chris Davis and Nelson Cruz -- have taken part in the Derby before, so Jones had plenty of ears to turn to for advice.
"We talked about it a little bit," Davis said. "My biggest thing going into it last year was, don't swing and miss. I really don't want to swing and miss. So foolishly I went out there and tried to hit a nice line drive, and I did."
That shouldn't be an issue for Jones -- although he could swing and miss. Orioles manager Buck Showalter is glad that it's Jones in this year's competition rather than Cruz because Jones is always swinging for the fences.
Even during batting practice, Jones gets the opportunity to prepare for the real thing.
"People don't realize we play Home Run Derby every day during batting practice," Davis said. "We get loose and then we swing for the fences."
In the end, it's just an opportunity for a four-time All-Star to have a little bit of extra fun during the All-Star break.
Last year, he brought a championship belt to give to the Derby winner. It'll be back this year. And so will one of his pies. He'll smash that in the winner's face, too, even if it's him.
"I'm just going to have some fun," Jones said. "I'm 28. I'm going to have some fun."
A new format has been installed for this year's Derby, as the five players from each league will receive seven outs instead of the usual 10 in each round. In the first round, the player who hits the most homers in each league will receive an automatic bye to the third round (semifinals). The next two players from each league with the most homers will square off against one another in a head-to-head matchup in the second round, with the two winners advancing to the semifinals against the league's top performer from the first round.
The final round will be a showdown between the AL and NL's best. If necessary, the first tiebreaker would allow the finalists three swings apiece.
If you can't wait for the actual Derby, the MLB.com Home Run Derby mobile game is a good way to immerse yourself in the action immediately, with Target Field serving as the setting. The game is available for download on the Apple App Store and Google Play. New for 2014 is Multiplayer Derby Mode, Achievements and Objectives.
Brittany Ghiroli is a reporter for MLB.com. Read her blog, Britt's Bird Watch, and follow her on Facebook and Twitter @britt_ghiroli. Dave Wilson is an associate reporter for MLB.com. This story was not subject to the approval of Major League Baseball or its clubs.