Davis gets back to basics with swing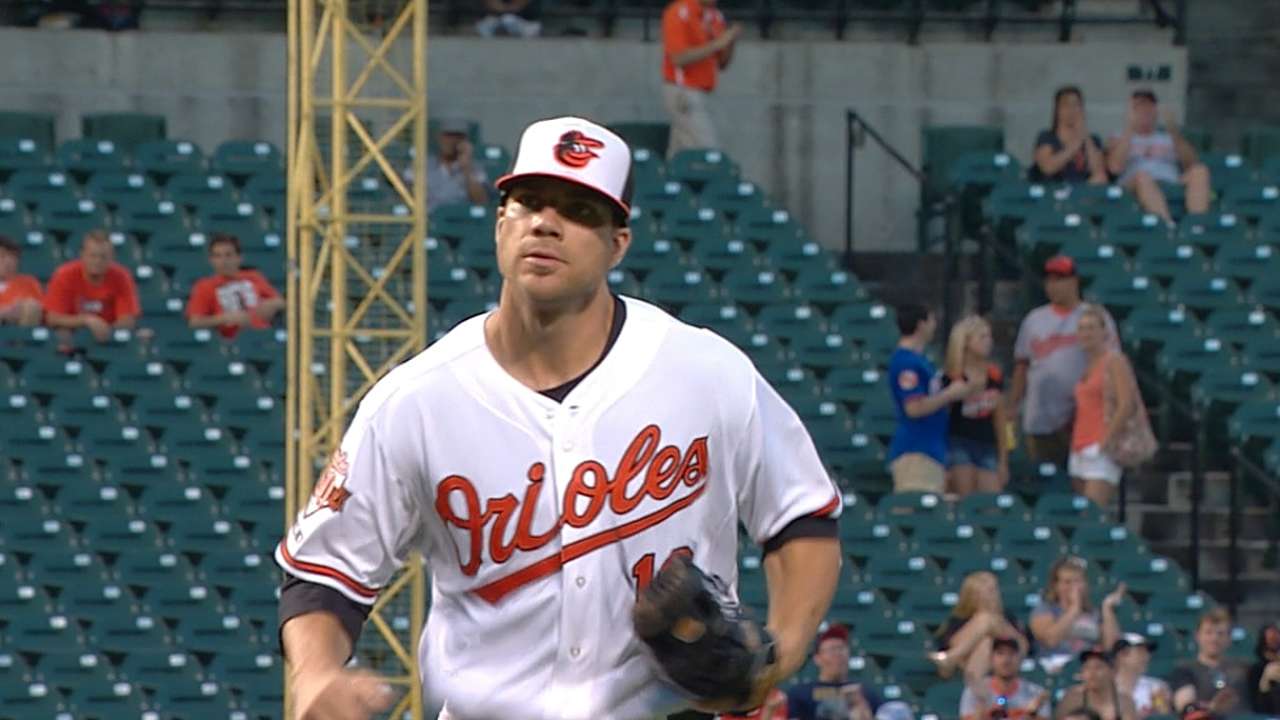 BALTIMORE -- Chris Davis' batting average has plummeted all the way down to .205. He's homered just twice since June 14. His defense has been good, but in almost every other way he hasn't been the player the Orioles expected him to be after his MVP-caliber season a year ago.
Before batting practice on Wednesday, Davis went back to the basics. As Buck Showalter looked on, the slugger set a ball up on a tee and practiced hitting balls on the outer half of the plate.
"A number of swings this year I've really been pulling off the ball or hooking the ball," Davis said, "and that was something that in the past I've always done really well, going the other way, staying through the ball."
He doesn't need to relearn how to hit the ball the other way, he said, but he needs to get better at staying through the ball to drive the ball.
A handful of times during Tuesday's 8-3 win against the Rangers, Davis had pitches up and away that a year ago he would've driven into the seats. This year, balls like those have typically become foul balls.
"That's when you know you're not right," he said. "Those pitches, when you're going good, are driven the other way."
He's still been able to pull inside pitches over the fence, but opponents have responded by shifting him harder than ever.
In the fifth inning on Tuesday, Davis ripped a line drive toward the first-base line. Texas second baseman Rougned Odor was shifted more than usual, though, and snared the ball out of the air.
During his final at-bat in the eighth inning, Davis belted a fly ball to center field. Ranger outfielder Daniel Robertson got to it before having the ball bounce off his glove. The play was ruled an error, but Showalter looked at that as a promising sign. He said it was one the best hit balls Davis had in days.
If things are starting to turn for Davis, they're not turning easily. Publicly, he said he's content as long as he's playing every day and the team's winning. Privately, Showalter said, it's been tougher.
"Don't think for a second it's not frustrating for him," the O's manager said. "I look at it with good players like him that somebody's going to pay. Somebody's going to pay down the line. It bodes well for us."
David Wilson is an associate reporter for MLB.com. This story was not subject to the approval of Major League Baseball or its clubs.