Davis returns to hot corner with Machado out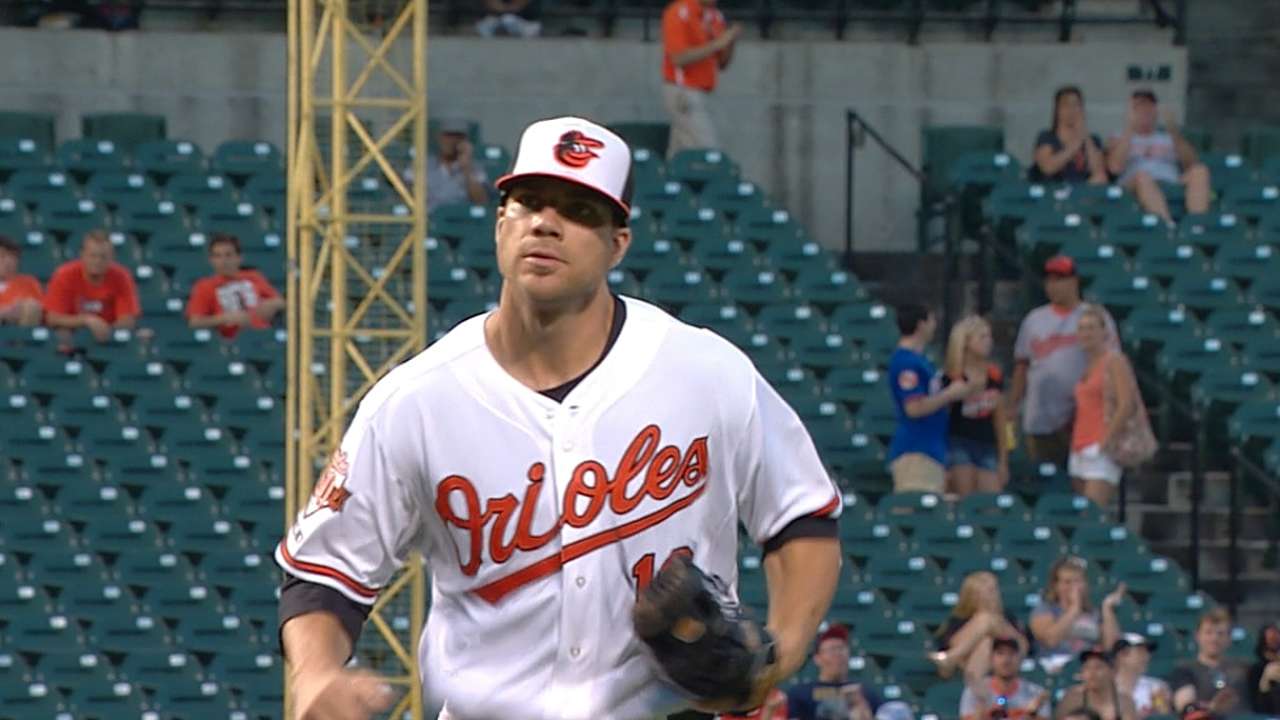 BALTIMORE -- Chris Davis only brings three gloves to the ballpark on game days. He has his first baseman's mitt that he will use during the game, a backup for that mitt, and a backup for the backup. At this point, there's usually no reason for him to need anything else.
When the lineup was posted on Monday, though, Davis was listed as the starter at third base. He knew it was a possibility with Manny Machado starting his five-game suspension on Monday, and now it was a reality.
Panting and wearing Machado's glove, Davis returned to the locker room after doing early work at third base.
"I'm really tired," Davis said.
This could be his reality for the next few days. Machado will be out of the Orioles' lineup until Saturday as he serves his suspension. Against the Rangers on Monday, Davis had four chances at third, recording three outs and making a throwing error in the fifth that led to Texas' lone run.
Davis' move to the position where he has played more than 70 games during his career allows Baltimore to insert outfielder Delmon Young into the lineup as a designated hitter and play Nelson Cruz in the outfield. The O's other option would have been to replace Machado with utility infielder Ryan Flaherty.
"It gives us a chance to get some more guys in the lineup," Davis said with a smile. "I have some experience playing third. It's been a couple years, but being the great athlete that I am it instills a lot of confidence in the manager to put me in there."
The Orioles would still like to add an additional infielder, and could make a move on Tuesday, if they don't need much from their bullpen on Monday.
Davis had some conversations with third-base coach Bobby Dickerson earlier in the week about potentially moving over to his old spot, and Orioles manager Buck Showalter said the slugger has "quietly" been getting work in at the position in case Baltimore opted to go with this defensive alignment.
"I've had one day where I took ground balls and just tried to kind of get a feel for it," Davis said, "but obviously playing first base every day I don't have a lot of time on my hands to go out there and take a lot of ground balls, so I'll do what I can."
Most of Davis' experience at third base came when he was a member of the Rangers. As a rookie in 2008, he played a career-high 32 games at the position for Texas.
Davis said he's curious to see how his former teammates will approach him as he faces his former team in a four-game series starting on Monday. Shortstop Elvis Andrus, Davis expects, will probably bunt against him every time.
"He can catch the ball, it's just sometimes he would over-attack it when he should have just gotten in good fielding position," Rangers manager Ron Washington said. "We were just trying to calm him down. But Chris can play it. He is a good athlete and has a strong arm."
Davis was a little embarrassed that Machado's glove -- the one Davis will be wearing the next few days -- has the words "Gold Glove" on it, because that's not the player he's pretending to be the next few days. He joked that the glove is "magic," but he's not going to be the defender that Machado is.
"What was he, the platinum glove defender of the universe last year?" Davis said. "I was there for pretty much most of the year in 2011 and 2010 I played a lot, so it has been a while, but I feel somewhat comfortable over there."
Brittany Ghiroli is a reporter for MLB.com. Read her blog, Britt's Bird Watch, and follow her on Twitter @britt_ghiroli. David Wilson is an associate reporter for MLB.com. This story was not subject to the approval of Major League Baseball or its clubs.