Left oblique strain forces Davis to leave game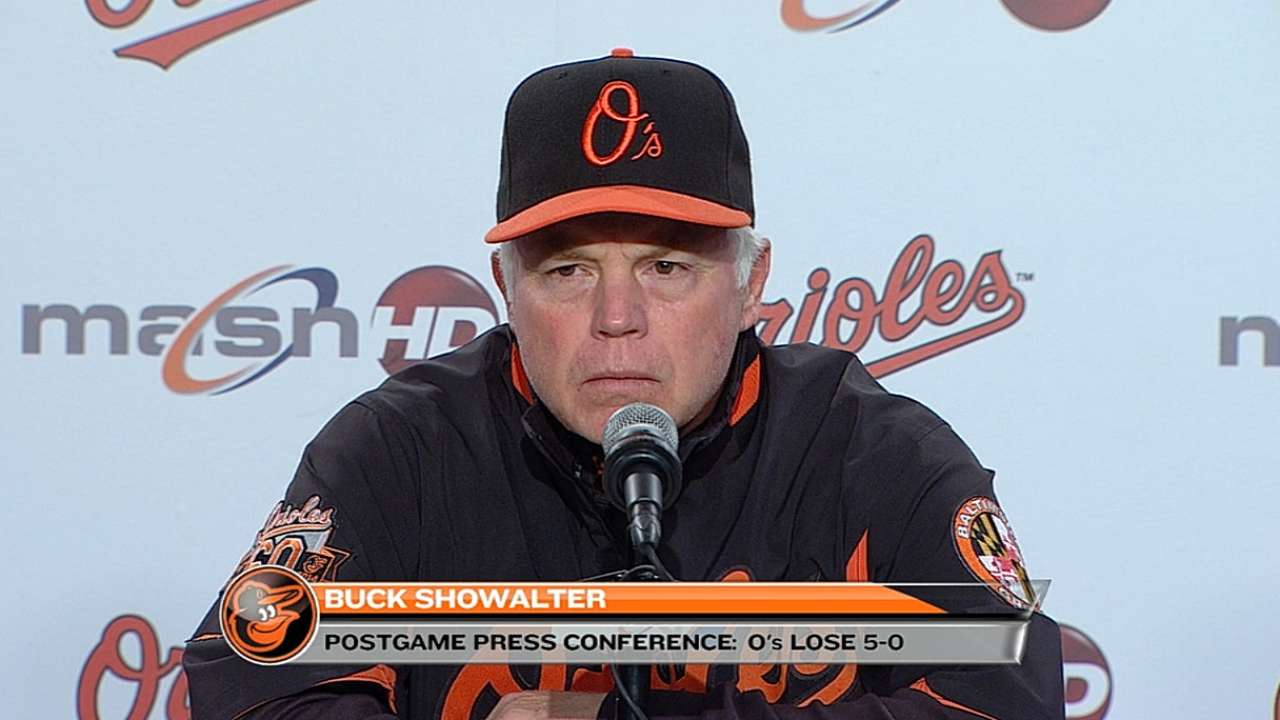 BALTIMORE -- Chris Davis exited Friday's 5-0 loss against the Kansas City Royals after four innings with a left oblique strain, and he will be further evaluated Saturday. The Orioles' first baseman was in good spirits about the injury, joking with reporters that he was sidelined 48 to 65 weeks.
"I've never had an oblique strain or whatever you want to call it, but it doesn't feel so bad right now that I can't move or anything like that," Davis said of an injury that typically takes 4-6 weeks to come back from. "So I think right now, we'll just take it one day at a time."
The slugger looked to be in pain during his last at-bat, grimacing during a third-inning lineout against Yordano Ventura, and Davis said he's been dealing with some discomfort in the area for the past few days.
"I think this time of the year, it's early, it's cold outside, the weather's not the most ideal. You're going to have aches and pains," Davis said. "Tonight, when I started swinging, felt good in the cage before the game, and a couple swings off of Ventura just didn't feel good. At that point, [manager] Buck [Showalter] kind of took it out of my hands. Something that we're going to keep an eye on and hopefully not let it get too bad right now. It's too early for that."
"I didn't want to take a chance of it getting worse," Showalter said. "I was watching [Davis] at first base, moving around, and he didn't seem real crisp ... . You get to know your players and their body language, and knowing it's not normal."
Any serious injury to Davis, the reigning American League home run champion, would be a huge loss to an Orioles club already without All-Star Manny Machado. Ryan Flaherty moved from third base to first in Davis' absence, with Jonathan Schoop shifting from second to third base and Steve Lombardozzi entering the game at second. Davis has two homers and 13 RBIs for the O's, and he entered Friday's game batting .257 with a career-high 20 consecutive games in which he reached base successfully.
"There was no asking," Davis said of being removed from the game. "[Showalter] basically said, 'You are done.' So it's probably smart right now. If he had left it up to me, I would have stayed in there. It's probably why he didn't. If we can get ahead of it now to make it just something that's just a bump in the road, as opposed to a big obstacle, it's better off."
Should Davis be sidelined for an extended period of time, Showalter wouldn't commit to Flaherty being the backup first baseman, saying the club has other options, particularly with Friday's post game move to option pitcher T.J. McFarland to Triple-A Norfolk. But Showalter was hesitant in making any definitive proclamations on Friday night.
Asked if he was concerned, Showalter said, "They all do [concern you], but until we can judge what stage it is, it's a little premature, because he's a well-conditioned strong guy. He's a tough guy. He plays through a lot of things.
"You take the proper precautions and see where you are in the next couple of days. He's worth waiting on."
Brittany Ghiroli is a reporter for MLB.com. Read her blog, Britt's Bird Watch, and follow her on Facebook and Twitter @britt_ghiroli. This story was not subject to the approval of Major League Baseball or its clubs.