O's waiting on Santana, but confident in rotation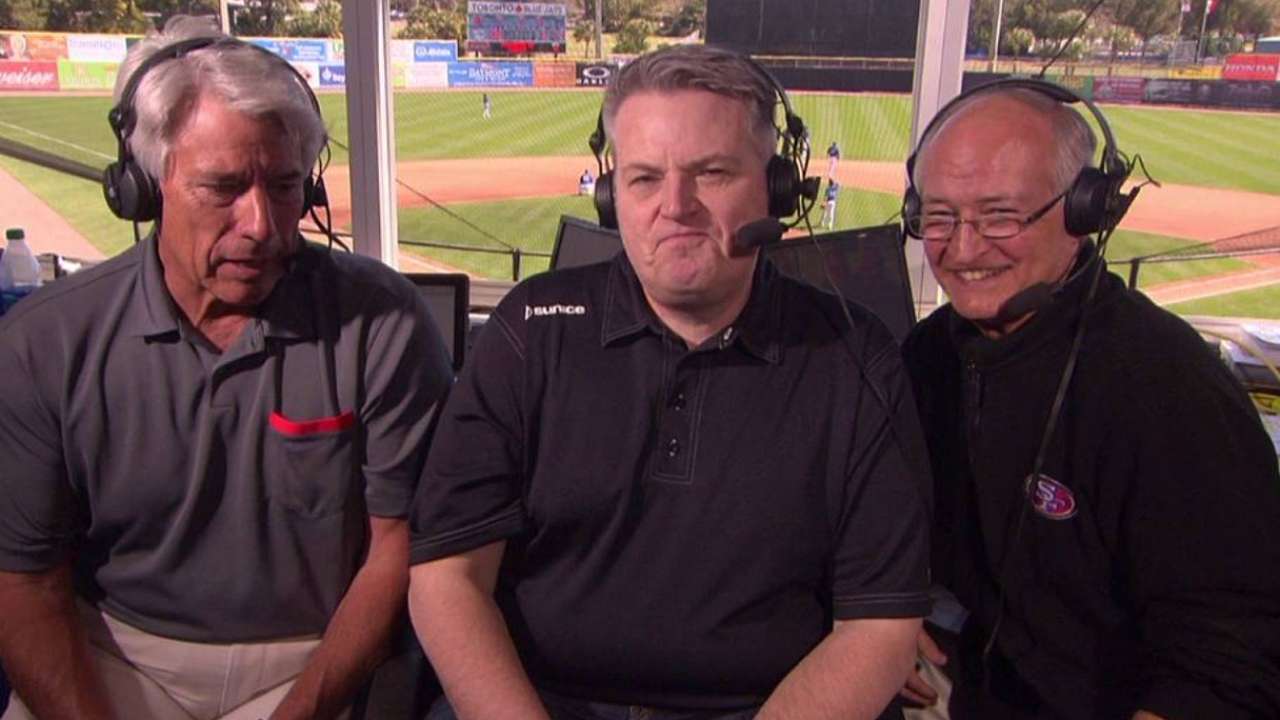 SARASOTA, Fla. -- Will the Orioles be the team to sign free-agent pitcher Ervin Santana?
If Baltimore -- reportedly in the running, along with Toronto -- is going to land the veteran right-hander, executive vice president of baseball operations Dan Duquette isn't going to tip his hand. Rumors swirled Saturday that Santana would reportedly sign by the end of the day, but nothing came of that. An industry source said Saturday that it could even be a week before Santana signs somewhere.
"I don't really know," Duquette said of Santana possibly signing within the next day or two. "I really don't. I really don't know what's real and what's not real in that case."
Duquette did acknowledge that the Orioles, who have been very active this spring after signing Ubaldo Jimenez and Nelson Cruz, could continue that trend, perhaps independent of a Santana signing.
"Our roster construction goes on all year," he said. "We have some more resources that we can invest in our team, and we'll take a look at each case as it comes up."
The Orioles have reportedly offered Santana a one-year, $14 million deal similar to the Blue Jays' bid. Toronto has a clear need, with several pitchers competing for two open spots in its starting rotation. If Baltimore signs the 31-year-old righty, however, it would crowd the club's rotation and almost certainly mean a trade of either Bud Norris or Zach Britton.
But Duquette mentioned several times that the Orioles also feel confident in what they already have.
"I would say that we're going to weed through the guys we have and see where that takes us," he said. "We're going to continue to evaluate the pitchers we have in camp.
"We do have a little more pitching depth with our starting pitching going into the season, and some of the young pitchers we have high hopes for are continuing to develop their skills. [Kevin] Gausman looked pretty good last night. [Dylan] Bundy is on track. We still have T.J. McFarland and Zach Britton to look at."
The interest in Santana picked up after he reportedly lowered his asking price and expressed a willingness to sign a one-year deal as soon as possible with a strong offensive club, but Duquette pointed out that the Orioles signed Jimenez to a four-year, $50 million deal.
Orioles manager Buck Showalter said he addressed the latest round of rumors with his team on Saturday, but he got the sense that his pitchers are more focused on their preparation than anything else, even those who might be affected by a potential Santana signing.
Even if the Orioles start the season with their pitching staff as it is now, there are still several pitchers trying to crack the Opening Day rotation. Some of the pitchers who have worked multiple innings so far this spring could find themselves in the bullpen, in Triple-A Norfolk or traded elsewhere. For now, Showalter said, they'll continue to get stretched out like starters until the club has to start making decisions.
"I don't think we've formally committed [to a set rotation] right now. The innings are there," Showalter said. "In two weeks, you are kind of forced to show your hand, even though you can massage that, too, if that's something you want to do. I think the people that we came in here wanting to look at as starters, we are still looking at them. I think everybody privately kind of handicaps things as is, but 'as is' can change every day. There is no such thing as a surplus of pitching, especially starting pitching.
"They're smart guys. They know what's going on. They also know where the spots are. They also know that it only behooves them to present themselves as a strong starting option for us -- and other people. Yesterday we had 12 scouts [from other teams] here. Today I saw the list, and I think it's 14. It helps them and it helps us, maybe down the road, especially when they're pitching well."
Britton agreed with Showalter's assessment. The 26-year-old lefty, who's out of options, said he entered the spring focused on staying healthy and proving himself as much as possible on the mound, not who else might be on the Orioles' radar.
Still, Britton said, he wouldn't mind seeing another new face walk into the clubhouse at the Orioles' Spring Training complex.
"We were discussing it amongst ourselves. I think it would be a great pickup. I hope we can get the guy," Britton said. "The way this team's stacked right now, we're going to do some special things, so I want to be a part of it any way I can."
Brittany Ghiroli is a reporter for MLB.com. Read her blog, Britt's Bird Watch, and follow her on Twitter @britt_ghiroli. Adam Berry contributed to this story. This story was not subject to the approval of Major League Baseball or its clubs.