Bundy working, not rushing, back from elbow surgery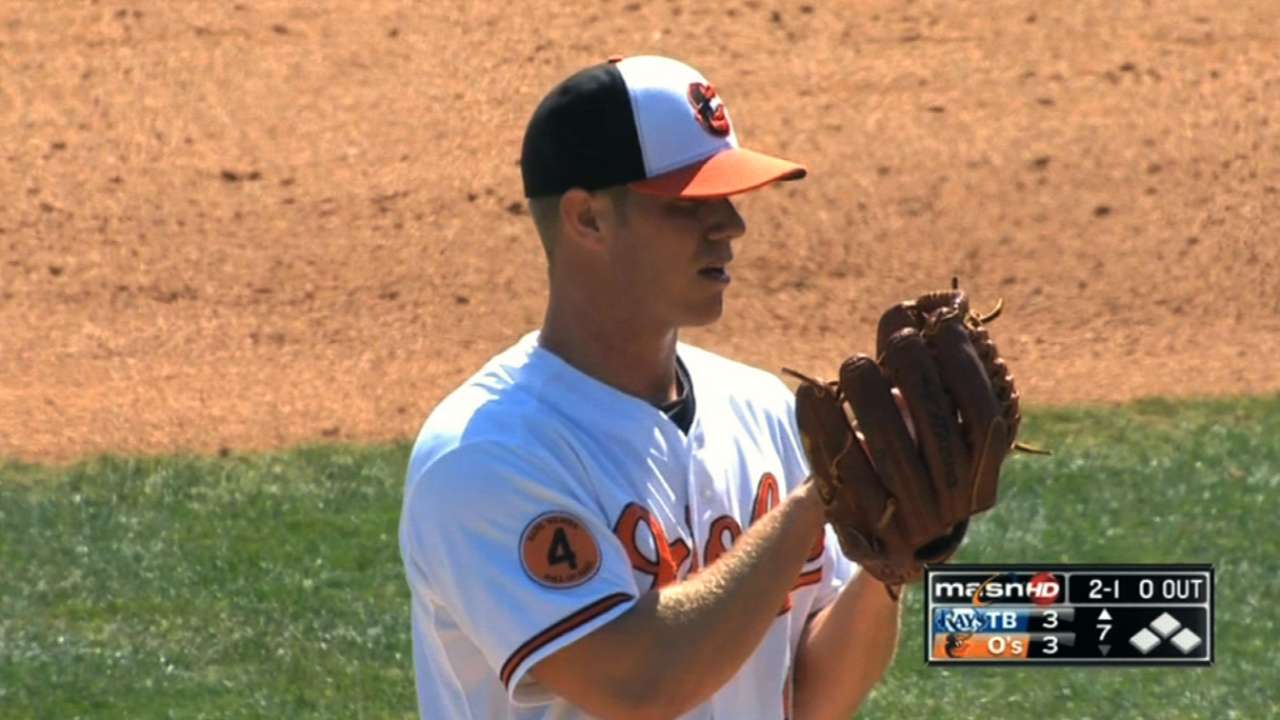 SARASOTA, Fla. -- Orioles right-hander Dylan Bundy is in the midst of recovery from last year's Tommy John ligament replacement surgery in his right elbow, and he said on Tuesday he is making progress.
The fourth pick by Baltimore in the 2011 First-Year Player Draft is on a long-toss day-off, day-on program. On the off-days from throwing, he undergoes rehab. Tuesday was one of his throwing days.
The time seems to move along slowly, and the recovery is tedious, but it must be done in that fashion. The usual rule of thumb is 12 to 18 months of recovery time from the date of Tommy John surgery before pitching in a live game. The surgery was June 27, so right now he's about eight months into the rehab.
"I'm doing great. I'm throwing every other day now," Bundy said before the Orioles worked out at the Ed Smith Stadium complex. "Literally, that's exactly what it sounds like. One day I throw and the next day I don't do much of anything except condition and work out. I do all lower body stuff and give my entire upper body a rest."
He'll make 10 throws from 150 feet, then 10 more from 90 feet, and finish up with 10 at 60 feet, all from flat ground. He's in a cycle where he's done that routine five times already over the last 10 days. What's up next or when he'll begin throwing again off a mound is on a schedule written by the pitching coaches. But Bundy is not sure when that will happen.
"I don't know the exact schedule yet," he said. "They kind of keep that to themselves, and I don't look too far ahead. The next step, and I don't know when it is, will be extending to 180 feet."
Rated by MLB.com as the Orioles' No. 2 prospect in 2013, Bundy made 23 starts in Baltimore's Minor League system in 2012 and went 9-3 with a 2.08 ERA before making two late September relief appearances that season for the Orioles, walking only one, giving up a hit, and allowing no runs in 1 2/3 innings.
He began to have forearm and elbow problems during Spring Training of 2013 and didn't throw a pitch at any level last year. A platelet-rich plasma (PRP) injection was prescribed by orthopedic specialist Dr. James Andrews, but it didn't help the injury, and eventually Bundy went under the scope.
Bundy said on Tuesday that he's eager to roll forward, but he's not going to push it.
"I'm not there yet," Bundy said. "I don't want to rush it, not at all. Psychologically, I've handled it pretty well. I've been down here recovering all along. I've had a bunch of the Orioles help me out and stuff. I can talk to them, tell them every day how I'm feeling. Working out with them has been good."
In Bundy's Draft class, five of the top seven picks were pitchers. At No. 1 was Gerrit Cole by the Pirates, and he came up to the Majors to stay last year. At No. 2 was Danny Hultzen by the Mariners, and No. 3 was Trevor Bauer by the D-backs, now with the Indians. Bundy was No. 4, and No. 7 was Archie Bradley, who was also taken by the D-backs and is highly touted by the Arizona organization.
Barry M. Bloom is national reporter for MLB.com and writes an MLBlog, Boomskie on Baseball. Follow @boomskie on Twitter. This story was not subject to the approval of Major League Baseball or its clubs.