Showalter welcomes rule change on collisions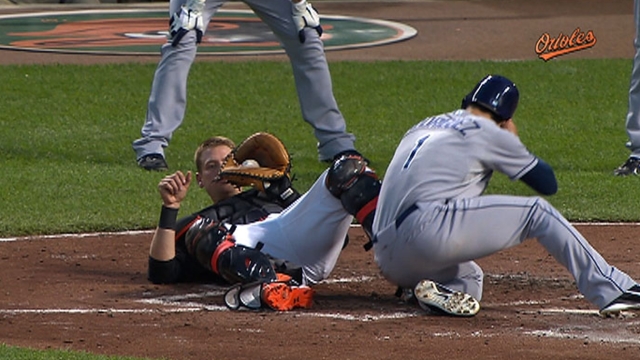 SARASOTA, Fla. -- Major League Baseball and the Major League Baseball Players Association officially negotiated the addition of Rule 7.13, which will prohibit egregious collisions at home plate, both parties announced on Monday afternoon.
"The big thing we are trying to eliminate -- and I wholeheartedly support it -- is the cheap shot collision," said manager Buck Showalter, who attended a meeting in Port Charlotte, Fla., on Sunday night to go over the rule along with instant replay. "Guy's completely exposed, doesn't have the ball and some guy hunts him. We've had it happen with Matt [Wieters] a few times. If you remember, we were real unhappy about it. I still remember the player that did it -- players.
"We are going to get that out of the game. We are not taking blocking the plate out. If a guy has the baseball, he can still take the plate. We are not going to take that play away, the way I understand it. It's just blocking the plate without the ball and a guy coming after a catcher when he's defenseless. Those two things are not going to be tolerated."
Showalter had bench coach John Russell, who is in charge of the catchers, with him at Sunday's meeting and said Wieters has been involved in a lot of the phone calls regarding the new rule. The hope is that the rule change isn't something that's visible to the average fan, with blocking of the plate still allowed and the rule just as important for the runners as those behind home.
"I have a lot of confidence Matt knows when and what is right and what puts him in harm's way," Showalter said. "He knows what he means to us."
Brittany Ghiroli is a reporter for MLB.com. Read her blog, Britt's Bird Watch, and follow her on Twitter @britt_ghiroli. This story was not subject to the approval of Major League Baseball or its clubs.