Day after collision, Casilla remains light-headed
Day after collision, Casilla remains light-headed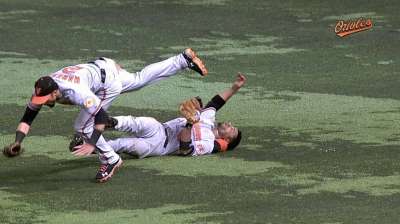 BALTIMORE -- Orioles infielder Alexi Casilla, a night removed from a collision in the seventh inning of Monday's game, was still feeling light-headed and foggy from an incident that could end his season.
"I still don't remember what happened," said Casilla, who dove for Wil Myers' bases-loaded blooper and hit his head on right fielder Nick Markakis' leg. "I just remember, I was in the clubhouse, and I asked myself, 'What am I doing here?' Somebody told me that I had a collision so I went to the video room and watched the replay and I was like, 'Oh my God.'"
The initial plan was for Casilla to stay in a Tampa Bay area hospital and be monitored overnight, but the Orioles opted to have him travel with them to Baltimore instead. Manager Buck Showalter, who went on to check on Casilla along with assistant athletic trainer Brian Ebel, said he regretted letting the second baseman stay in the game.
"I didn't realize how much contact. I look back on it and I probably made a mistake leaving him in there," Showalter said of Casilla, who played the remainder of the inning before he was pulled. "I let him talk me into it. He answered the right questions that the trainer had. He's a hard read, too. He's a tough kid."
Casilla, who politely declined to speak with the bright camera lights present, also sustained a right thumb injury on the play and wasn't sure how that happened. He had Myers' ball in his glove -- which would have been a fantastic catch -- but it popped out upon impact with Markakis. Casilla was unavailable Tuesday night and said he wasn't sure if he would be ready to go before the team's final regular-season game Sunday.
Told about Casilla's memory loss, Showalter said, "It was a reminder to me about getting those guys out of the game, and I've done it 99 percent of the time. For some reason, he really sold [O's assistant athletic trainer] Brian [Ebel] and I. He was right on the score, everything. He had it all wired. Then he tells you that today. Kind of tells you how the brain works, I guess. Tough kid. He almost made a hell of a play."
Brittany Ghiroli is a reporter for MLB.com. Read her blog, Britt's Bird Watch, and follow her on Twitter @britt_ghiroli. This story was not subject to the approval of Major League Baseball or its clubs.