Gausman pitching his way into late-game situations
Gausman pitching his way into late-game situations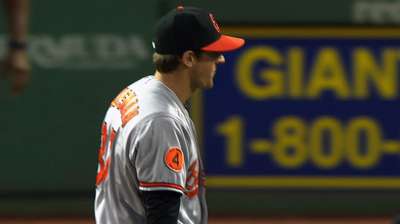 BOSTON -- Over the last 45 plate appearances, Kevin Gausman has held Major League hitters to a .195 batting average. He's allowed just four extra-base hits while striking out 18 and walking four.
On Wednesday night, he struck out five of the six Red Sox batters he faced as he pitched two perfect innings to extend a game the Orioles won in 12 innings.
Manager Buck Showalter won't "fox-hole" Gausman into one specific role. But it's become obvious that the 22-year-old has earned trust, working his way into late-game situations regularly.
"This time of year, stuff plays," Showalter said Wednesday. "He's pitched in some big venues. Until you go to a night SEC game on Friday night against rivals -- he's pitched with high expectations a lot in his career."
Gausman, who was pitching for Louisiana State University just more than a year ago, also impressed Red Sox manager John Farrell.
"Well there's a lot [to like]," Farrell said. "Arm strength, action, strike throwing ability. To think that someone 14 months ago was on the campus of LSU and is now pitching in a pennant race, it was impressive, both in raw stuff and just composure and attacking the strike zone. He's got great stuff."
Jason Mastrodonato is a reporter for MLB.com. This story was not subject to the approval of Major League Baseball or its clubs.