Norris being careful, Gonzalez improving
Norris being careful, Gonzalez improving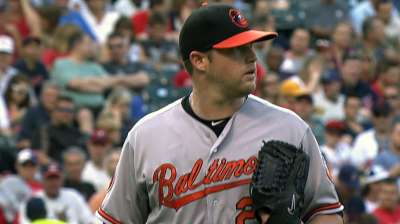 BOSTON -- Bud Norris is in a tough spot, trying to push his sore pitching elbow as far as possible so that he could start Saturday's all-important game against the Rays, while also trying to protect himself from a long-term injury.
Norris is under team control through 2015, so the Orioles have to be equally as careful with the right-hander, who was acquired from the Astros on July 31.
The 28-year-old felt good after a bullpen session Tuesday and was scheduled to play catch on the field at Fenway Park on Wednesday, but he was still unsure if he could start Saturday.
"It's a hard one to toy with, especially this late in the year and how I've been feeling, but I came over for a reason," said Norris, who has a 4.67 ERA in nine starts with the O's. "I want to pitch and be on the field. … That's what I've been dreaming of doing for four years in the big leagues, make a postseason run. But I have to take it day-by-day and be smart about it for the long-term reasons and short-term reasons, too."
The good news is that Miguel Gonzalez reported feeling better than expected on Wednesday. The Orioles originally penciled him to miss one start due to a right groin strain, but there's a chance he could take the ball for Saturday's game if Norris can't.
"That was encouraging; I didn't expect that," manager Buck Showalter said. "We'll leave him alone again today and make a decision tomorrow on Saturday, whether it will be Miggy, Bud or someone else. I think tomorrow we'll have all the information that we need."
Jason Mastrodonato is a reporter for MLB.com. Follow him on Twitter @jmastrodonato. This story was not subject to the approval of Major League Baseball or its clubs.