Showalter hopes young players are learning
Showalter hopes young players are learning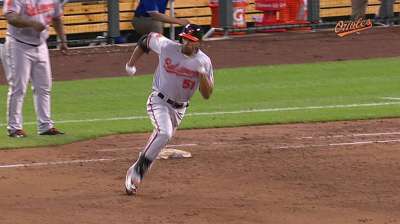 BALTIMORE -- Orioles manager Buck Showalter said he's hoping young players like Jonathan Schoop and Henry Urrutia will use their September callups as a learning experience.
Showalter said younger players can get a good look at life in the Major Leagues when called up. Being in a pennant race is probably going to limit their chances to contribute, but the skipper wants guys like Schoop, the team's fourth-ranked prospect by MLB.com, and Urrutia to learn.
"It's invaluable for Jonathan and Henry to see these games in September that are meaningful," Showalter said before Saturday's game against the White Sox. "It's such a teaching/learning tool that they're benefitting from what these guys have done to be in this environment."
Showalter said the younger guys will probably get more of a shot to show things in Spring Training next year.
"You can tell there's a process that they're taking in," Showalter said. "Some guys are different. Some guys don't get any benefit from it."
Urrutia had a big part in Saturday's 4-3 win over the White Sox in 10 innings, as he hit a pinch-hit single to left to start the winning rally before being lifted for pinch-runner Chris Dickerson.
Jeff Seidel is a contributor to MLB.com. This story was not subject to the approval of Major League Baseball or its clubs.