Nagging wrist injury sends Pearce to DL
Nagging wrist injury sends Pearce to DL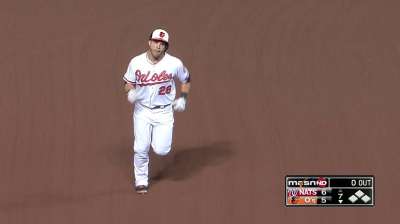 NEW YORK -- Steve Pearce's nagging left wrist injury continues to be an issue, and the O's decided to place the outfielder/designated hitter on the 15-day disabled list for the second time this season prior to Saturday's game.
"It's been very frustrating," said Pearce, who missed more than a month with wrist tendinitis earlier this season. "I've been dealing with it all year, and when I started getting into a groove, it started to flare up again. It's probably something I'm going to have to address in the future."
Pearce's roster spot was taken by new Oriole Michael Morse, and the plan is for Pearce to go to the team's spring facility in Sarasota, Fla., and try to work his way back this season. Both Pearce and manager Buck Showalter said Saturday they think he can make a mid-September return.
"Stevie is such a competitor and such a grinder," Showalter said of Pearce, who the skipper stayed away from using the last few days because of the wrist. "He's a physical guy, and not to be carrying everything. ... He's gone through periods when he feels great, and then because of the work that all guys do to get ready to play, it's just a very repetitious sport, and there's a fine line between it.
"But we're going to take a look at it with our specialist down there and make sure there's nothing structurally wrong, which we don't think there is. I think he'll be back in 12 days. I hope."
Pearce, who had his left wrist wrapped while talking to the media Saturday, said it's more inflammation than anything else and a lighter pregame load didn't really help. In 38 games for the Orioles this season, Pearce has a .241/.328/.361 line.
Brittany Ghiroli is a reporter for MLB.com. Read her blog, Britt's Bird Watch, and follow her on Twitter @britt_ghiroli. This story was not subject to the approval of Major League Baseball or its clubs.