Betemit returns to Orioles' lineup as DH
Betemit returns to Orioles' lineup as DH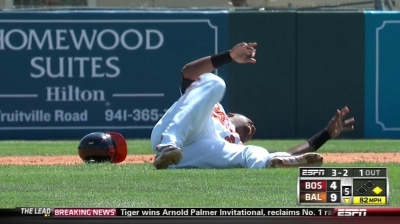 BOSTON -- The Orioles welcomed Wilson Betemit back to the roster on Tuesday, and he made his first start of the season on Wednesday. Betemit, a big part of Baltimore's lineup last season, injured his right knee in Spring Training and spent the last few months working back into playing condition.
The switch-hitter served as the O's designated hitter on Wednesday night, and manager Buck Showalter batted him in the eighth slot of the order. The veteran is a career .268 hitter with 75 home runs, but the club knows it will be tough to get him back to full speed in September.
"It's a big night for him," said Showalter of getting Betemit back into the batting order. "If for nothing else, just getting back all the way. I was really glad we could get him in the game last night."
Betemit was one of Baltimore's best hitters against right-handed pitchers (.302/.357/.502 in 255 at-bats) last season, and he saw time at first base, third base and left field. The Orioles have missed his bat this year, but Showalter said that injuries have affected virtually every lineup in the league.
"It would've been easier with him, but it's just one phase of the game you have to be good at to compete with the Red Sox of the world," said Showalter of filling in for Betemit the last few months. "It's an unknown what level he's going to return at, but there's only one way to find out."
Spencer Fordin is a reporter for MLB.com. This story was not subject to the approval of Major League Baseball or its clubs.