Showalter impressed with Urrutia's progress
Showalter impressed with Urrutia's progress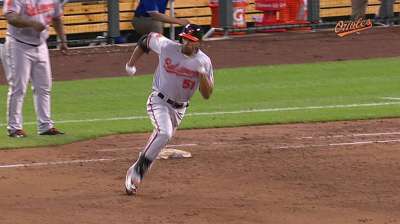 PHOENIX -- Although Henry Urrutia's Major League career is still in its infancy -- he won't have a full month under his belt until Aug. 19 -- Orioles manager Buck Showalter has been impressed with the way the Cuban defector has handled his new surroundings and responsibilities so far.
"It's kind of tough on him right now, all the things that have been thrown at him like the new country, different leagues, new ballparks and new teammates, but I think he has handled it real well," Showalter said. "He's very personable, his English is better than you'd think it might be, he's sharp. He's very engaged; you can tell he likes what he's doing."
With the Orioles playing in National League parks over the last week, the designated hitter hasn't seen much action, only receiving six pinch-hit at-bats since Aug. 6. Still, Urrutia has shown Showalter glimpses of a potentially bright future with the 26-year-old collecting 14 hits in his first 48 at-bats.
"He's going to be a good one," Showalter said. "He keeps the bat in the zone a long time, those guys that carve the ball down the line; I'd rather see that than those guys that are in and out of the zone and roll over balls.
"He's been impressive, he cares. He's going to give himself a chance to be good."
Tyler Emerick is an associate reporter for MLB.com. This story was not subject to the approval of Major League Baseball or its clubs.