Hardy gets rare breather; Flaherty, Casilla start
Hardy gets rare breather; Flaherty, Casilla start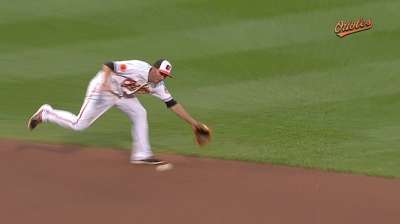 BALTIMORE -- Ryan Flaherty and Alexi Casilla started at shortstop and second base, respectively, Saturday against the Mariners. It's not the usual look to the Orioles infield, as neither shortstop J.J. Hardy nor second baseman Brian Roberts got the start.
Roberts was placed on the paternity list yesterday to be with his wife, Diana, as the couple welcomed their first child, Jax Isaac, overnight Friday. Roberts will not be with the team Saturday and could possibly miss Sunday, too. Manager Buck Showalter said he expects Roberts to be on the team plane to San Diego when the Orioles leave for their West Coast road trip.
Hardy, meanwhile, got a day off from starting to rest his body. The American League Gold Glove Award-winning shortstop has started every game this season, and traveled to New York for the All-Star Break instead of taking time off.
"Buck's been trying to give me a day for about a month now, and I think today just kind of falls into that," Hardy said. "I'm going to take it and recover a little bit and think about the rest of the season and hopefully October."
Hardy said he was hoping to start all 162 games this season, because he'd never done it before, but added "161 is not bad. That's the new goal."
He said there isn't a specific injury that's ailing him, just general body soreness that's typical of any baseball player in August. And while having the time off for the All-Star break could have been a benefit to rest his body, Hardy said the experience was well worth it.
"I don't think three days or four days could have hurt. But would I trade that for going to the All-Star game? No way," Hardy said. "I had a blast, I think we all had a blast to represent the Orioles in that way and I wouldn't trade that for anything."
Showalter's decision to rest Hardy ended a streak of 150 games that Hardy and third baseman Manny Machado started together on the left side of the infield, dating back to last season.
Flaherty filled in for Roberts on Friday, too, and went 3-for-4 with a double and a homer. Casilla, who played in just four games in July, made his first start since July 8.
Derek Wetmore is an associate reporter for MLB.com.. This story was not subject to the approval of Major League Baseball or its clubs.