Alomar inducted into Orioles Hall of Fame
Alomar inducted into Orioles Hall of Fame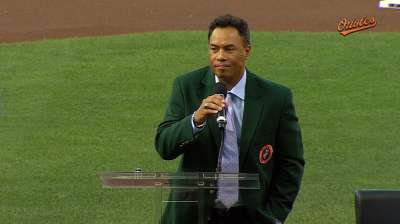 BALTIMORE -- The Orioles inducted second baseman Roberto Alomar into the Orioles Hall of Fame on Friday, with a luncheon in the afternoon and a pregame ceremony at Camden Yards. During the pregame ceremony, the team also presented longtime scout Don Pries with the Herb Armstrong Award.
Current Orioles broadcaster and Orioles Hall of Fame member Mike Bordick introduced Alomar and slipped the green Hall of Fame jacket on the former second baseman.
Alomar spent three seasons with the Orioles from 1996-98. In that time, he batted .312, the highest batting average in franchise history among players with at least 1,200 at-bats. He also hit 50 home runs and had 210 RBIs in his 412 regular season games with the club. His .480 slugging percentage is ninth on the Orioles' all-time list.
"I feel honored. It's an honor as a ballplayer. I never expected this phone call from the Orioles," Alomar said. "I only played here for three years and it caught me by surprise. But to be selected by such a great, elite group of players, it is an honor. It is a dream come true for myself.
"Playing with Cal [Ripken Jr.] was, to me, a childhood dream come true. Playing with one of the top shortstops, it was an unbelievable feeling for myself. And I remember every day that we played here, we played in front of a sold-out crowd. So, as a ballplayer, you always loved that."
Alomar spoke to the crowd before Friday's game, and he threw out the ceremonial first pitch to Alexi Casilla, but with his own little twist. Instead of winding up to throw the pitch overhand, Alomar flipped it with his backhand, much like he used to on defense in his playing days.
"I think sometimes guys like him and [Omar] Vizquel got bored playing defense and kind of invented different looks," Orioles manager Buck Showalter said. "There's things that guys do today that I guarantee they were sitting at home watching Robbie do and they said, 'I want to try that.'"
Pries was part of the Orioles organization from 1968-74 during its peak. He oversaw the club's farm system for general manager Harry Dalton when the team won three American League pennants and a World Series in '70.
Pries was director of the Major League scouting bureau and said he helped mentor Dan Duquette, the Orioles executive vice president of baseball operations.
Derek Wetmore is an associate reporter for MLB.com.. This story was not subject to the approval of Major League Baseball or its clubs.