K-Rod excited to join playoff race, eager to help 'pen
K-Rod excited to join playoff race, eager to help 'pen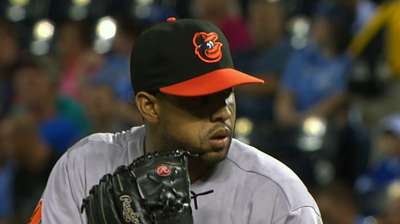 BALTIMORE -- Francisco Rodriguez pitched his first game in an Orioles uniform Thursday. Like many around baseball, he said he was surprised when he first found out he'd be donning black and orange. He said he knew he'd be traded, just not to which team.
"I knew I was getting traded, but [the] Orioles surprised me," Rodriguez said Friday. "At the same time, when I realized this ballclub was in the playoff hunt, I got excited because I know that I got a chance to be in the postseason once again."
He pitched the seventh inning Thursday in a 7-1 loss to the Royals. He gave up a solo homer to Billy Butler.
Rodriguez figures to give manager Buck Showalter another right-handed relief option. Showalter said he has talked with Rodriguez about his role, and the veteran righty said his usage won't be an issue.
"Just be ready," Rodriguez said of what he's expected to do. "I'm not here to take nobody's job. I'm here to take some pressure off the bullpen. They've had a lot of workload."
Showalter also said integrating Rodriguez to the tight-knit clubhouse shouldn't be a problem as long as he's helping the team.
"I think he understands why he's here; in fact, I talked to him some about it," Showalter said.
He added that the team's young players show respect for players who have been through the battles of a Major League season, and specifically a postseason run.
And Rodriguez said pitching previously in big games is "definitely" an advantage when it comes to handling a playoff race. It's one of the reasons he thinks he was sought after in advance of the non-waiver Trade Deadline, which is Wednesday.
"I perform better in a pressure situation than I do in a regular game," Rodriguez said. "I enjoy it, I like it."
"He's got a track record, he's got some pedigree. ... We did our homework, and Franky ain't scared. He's going to let it rip," Showalter said. "When things like that get done, you don't just make [a trade] stat-for-stat. Things go on behind the scenes, so you know what you're getting."
Derek Wetmore is an associate reporter for MLB.com.. This story was not subject to the approval of Major League Baseball or its clubs.