Added to roster, Tillman brings O's All-Star total to five
Added to roster, Tillman brings O's All-Star total to five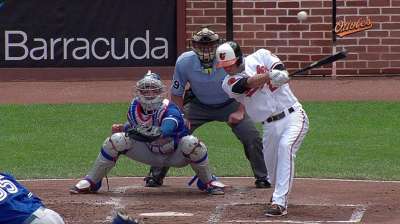 BALTIMORE -- Orioles right-hander Chris Tillman got a pleasant surprise Sunday, when he was named to the All-Star Game as a late replacement for Detroit pitcher Justin Verlander on the American League roster for Tuesday's game in New York.
Tillman is 11-3 with a 3.95 ERA and 89 strikeouts over 111 2/3 innings in his fifth Major League season, and said while the news surprised him and will force him to change some plans, that is just fine with him.
"It was a big surprise," Tillman said. "I found out earlier today. It's big to be going to something like this. I found out it was a possibility yesterday."
In the end, it came down to making sure the Tigers played in Detroit. When Verlander made his first pitch, and took a no-hitter into the seventh, the All-Star berth went to Tillman. The 25-year old is the Orioles' fifth All-Star -- the club's best representation since 1997, when it also had five.
"It's a great moment for him and he deserves it," manager Buck Showalter said. "He's been solid for us."
Tillman's teammates were also thrilled to see him get some major recognition after a strong first half.
"It's huge. We were all just as excited as he was when we found out today," first baseman Chris Davis said, another All-Star. "The guy's worked hard all year. He's been a guy that we really depend on, a guy that's really been a horse for us."
Tillman will join Davis, J.J. Hardy, Adam Jones and Manny Machado in New York to represent the team.
The 1997 group included Hall of Famers Cal Ripken, Jr., and Robert Alomar, plus Brady Anderson, Mike Mussina and Randy Myers.
Jeff Seidel is a contributor to MLB.com. This story was not subject to the approval of Major League Baseball or its clubs.