Dickerson participates in pregame workouts Thursday
Dickerson participates in pregame workouts Thursday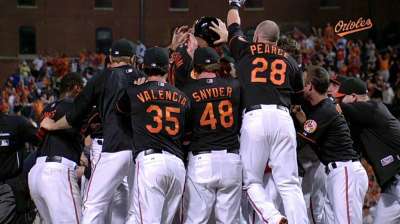 BALTIMORE -- Chris Dickerson, a late scratch with a strained shoulder Wednesday, said he felt fine Thursday.
Dickerson took part in pregame workouts and said if that went well, the team would scrap the MRI it had scheduled for Friday.
"It's considerably better in the swing today," Dickseron said. "It wasn't that serious. Just went home and did some work with a neuromuscular specialist, and it's much better today."
Dickerson said he injured the shoulder on the last swing of his first round of batting practice Wednesday. He took the next round off, but then finished up batting practice as usual. When he iced his shoulder, it stiffened up, and it became clear he couldn't play that night.
"I knew it wasn't that bad, it was just something I couldn't play with after the last two rounds of BP. ... The movements and the strength is much better [Thursday]. We're going to see how baseball activities go. Throwing should be interesting, but hitting should be much better."
Dickerson received a cortisone injection in his left shoulder Thursday and took some dry swings. Manager Buck Showalter said he's available in some capacities, but he wants to see how Dickerson throws before calling him a "full-go."
Dickerson said he had a problem with his left shoulder in 2004, and he's also had more serious troubles with his right shoulder.
Derek Wetmore is an associate reporter for MLB.com. This story was not subject to the approval of Major League Baseball or its clubs.