HOF third baseman Robinson takes in an O's game
HOF third baseman Robinson takes in an O's game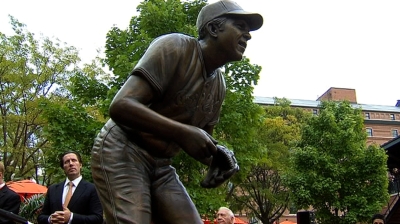 BALTIMORE -- Legendary third baseman Brooks Robinson attended the Orioles' 6-1 win Wednesday over the Rangers.
During the game, the center-field scoreboard showed Robinson in his suite, and fans took notice with a loud cheer. He responded with a smile and wave.
The fans weren't the only ones who were paying attention, though. Orioles manager Buck Showalter said he noticed Robinson up on the big screen between innings and stopped what he was doing to watch.
"There's always a special significance," Showalter said of Robinson's visits. "Brooks is one of the real treasures of baseball, let alone the Orioles. "
The manager even took extra time in his postgame press conference to relay a story about him and Robinson. Showalter was looking for a home in the area and ran into Robinson walking down the street with Robinson's wife.
"It was like I had known him for 100 years," Showalter said of the encounter and ensuing conversation. "Then it started raining and his wife was trying to get him to go inside, and he goes, 'Nah, I'm talking to the manager of the Orioles, we can stay out here and get wet.'
"He's special; we're lucky to have him show up here. To think that Brooks Robinson thought the most important thing today was come watch us play, that's pretty cool. If we'd have played bad [Wednesday], that would have been a really tough thing to live with."
Derek Wetmore is an associate reporter for MLB.com. This story was not subject to the approval of Major League Baseball or its clubs.