Four O's All-Stars excited to share experience
Four O's All-Stars excited to share experience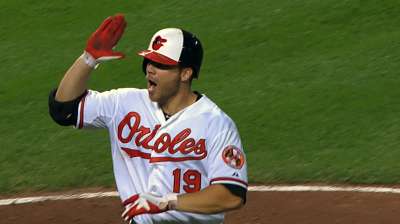 BALTIMORE -- The Orioles contingent of All-Stars spoke with the media on Monday in their normal press conference room. But the team needed a double-wide table, which underscores the heavy presence the Orioles lineup will have on the American League's roster at this year's All-Star Game.
Adam Jones, Chris Davis, and J.J. Hardy were all voted as starters by the fans, and Manny Machado was picked as a reserve from the players' ballot.
"I think reality has set in but it's kind of surreal," Adam Jones said. "We have four guys up here obviously because we've earned it and deserve it. It's humbling to go there and share it with my teammates, guys I spend most of my life with."
Jones and Hardy have been there before, but Davis, who leads the Majors in home runs, will be making his first trip.
"It's always fun to do things that you've never done before. But when you can do it with guys that you're battling with on a day-to-day basis it makes you appreciate it that much more," Davis said.
"I thought for a while there we might have nine starters in the All-Star Game the way the fans were voting, and we appreciate that," Davis added. "That means a lot to us knowing that the fans are behind us and that there are fans around the country who are behind us as well."
Hardy struggled offensively last season, but has seen his power numbers surge this year to pair with his ever-steady glove. He said making the trip this year will mean a little more after he puts last year's struggles behind him.
"I feel like my career so far has been kind of a roller-coaster ride. I've had ups and downs, I feel like we all do," Hardy said. "But any time you can come back up after being down it definitely feels great. I think it makes this a little more special for me."
It will also be the first trip for Machado, who celebrated his 21st birthday on Selection Saturday, July 6. So did the repeat All-Stars have any advice for Machado on what to expect?
"Autographs, get ready to sign," Hardy said. "Just that it's fun. Go there and enjoy yourself, take it all in. Try to represent the Orioles the best way you can, and the American League. Really, there's not much to tell him. He'll see it all in about a week."
Brittany Ghiroli is a reporter for MLB.com. Read her blog, Britt's Bird Watch, and follow her on Twitter @britt_ghiroli. Derek Wetmore is an associate reporter for MLB.com.. This story was not subject to the approval of Major League Baseball or its clubs.