With Chen set to return, Showalter mulling options
With Chen set to return, Showalter mulling options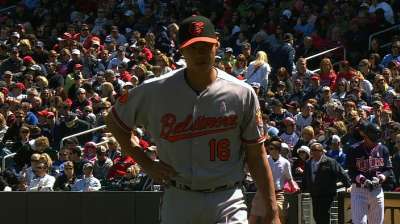 NEW YORK -- The Orioles are still feeling out their rotation and plotting out how to best finish off the first half. Injured starter Wei-Yin Chen is ready to come off the disabled list and will likely pitch on Tuesday or Wednesday against the Rangers, but manager Buck Showalter still isn't sure of the exact alignment.
This much is clear: Scott Feldman will start Monday's series opener against Texas, and Zach Britton is a candidate to start on either Tuesday or Wednesday. Miguel Gonzalez and Chris Tillman will both be ready to start at the end of the Texas series, giving Showalter options for the four-game set.
"These guys are only going to pitch one more time," said Showalter. "It's just a matter of when and how you're going to start after the break. With the four days [off], you've got a lot of possibilities. Some guys, we may consider sending out just to stay active. We'll see what our needs are."
Chen, recovering from a strained right oblique, threw a 43-pitch bullpen session Saturday and said Sunday that he felt healthy. The left-hander has been out since the middle of May. Britton and top prospect Kevin Gausman could be candidates to work for Triple-A Norfolk during the break.
Showalter said that he was thrilled with the amount of All-Star support his players received, but he was equally pleased with how seriously his players take the honor of representing their team and league. To a man, said Showalter, the Orioles want to be All-Stars.
"I would never be unhappy for them going to this event. It's a great experience," he said. "I was talking to Matt [Wieters] yesterday about if somebody calls [him as an injury replacement] and how much it means to him. They all want to go. I think it says something about our club.
"I see some of these guys go, 'I don't really want to go if I'm not starting.' Come on. Not our guys. If they can represent our club and the American League and be a part of this, they want to go."
Spencer Fordin is a reporter for MLB.com. This story was not subject to the approval of Major League Baseball or its clubs.