Davis ready to crush in Derby if called upon
Davis ready to crush in Derby if called upon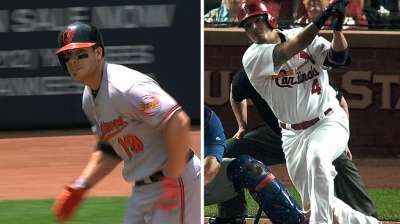 NEW YORK -- If chosen, he will swing.
Chris Davis said Sunday that he didn't know whether he'll be chosen to represent the American League in the Home Run Derby, but he'll be happy to participate if selected. Davis, who entered the day leading the Majors with 33 home runs, said he's eagerly awaiting word from AL captain Robinson Cano.
"If I'm asked, I will. We haven't talked about it," Davis said of the Derby. "I haven't heard anything about it. I don't know when it's going to be announced, but yeah, if I have the opportunity, absolutely. Just as much as the All-Star Game, as much as that means to me, as a power hitter, it's something that I've watched since I was a little kid and something that I've always wanted to do."
Davis, the leading vote-getter for the All-Star Game, said he's not concerned that participating in the Home Run Derby will mess with his batting stroke. In fact, Baltimore's first baseman said that his swing is built for the Derby and that he'd treat it as another round of batting practice.
"I do Home Run Derby every day in BP," he said. "The biggest thing for me is to not go out there and get hurt. I'm not going to swing and try to blow out my back. Every day in BP, we get loose, and then the last few rounds are, 'All right, let's see who can hit it further.' I've been practicing for a few years."
Davis said he never expected to outpoll Detroit slugger Miguel Cabrera, and that he was thrilled to be the league's leading vote-getter. But more than anything else, Davis said that his fan support -- and that of the rest of his teammates -- was really a reflection of how well the Orioles have been playing.
"It means a lot, not only to know that our fans were out there voting, but that everybody across the nation was voting, as well. And that I had their support," said Davis, who finished the fan balloting with 8,272,243 votes. "I think any time you're doing well, you know your hometown fans are behind you. But to know that other teams' fans are watching and taking notice, it's a great honor."
Manager Buck Showalter joked Sunday that his family's votes were ultimately the difference between Davis and Cabrera, and he said that the slugger's All-Star status is richly deserved. Showalter, a traditionalist, is more excited for the actual All-Star Game than he is for the other festivities.
"If I do, it will be with the sound off. I can tell you that," said Showalter of watching the Home Run Derby. "If Chris wants to do it, that's fine. I'm all for it. I did tell him that if he gets sent to it, realize that a ball that scrapes the fence for a home run counts as much as one of those 'Wow' home runs."
Spencer Fordin is a reporter for MLB.com. This story was not subject to the approval of Major League Baseball or its clubs.