Chen could return to rotation next week
Chen could return to rotation next week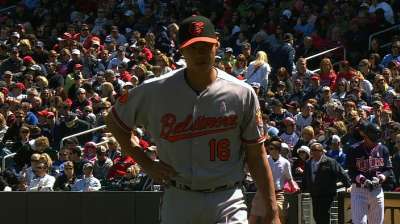 NEW YORK -- The Orioles are a few days away from holding an intact rotation.
Wei-Yin Chen, sidelined for six weeks by a strained right oblique muscle, joined the Orioles at Yankee Stadium on Friday. Baltimore wants the southpaw to test himself one more time with a bullpen session, and if everything's OK, he should be back on the mound next week.
"He'll take his work-day tomorrow or the next day," said manager Buck Showalter. "We'll see how he feels and then we'll make a decision. If he's physically ready, we'll activate him on the fifth or sixth day. We've got some different options that present themselves now. We'll take it day to day."
Chen will likely slot back into the rotation on Wednesday or Thursday against Texas, but Showalter has a few other options. Zach Britton has stepped up and worked to a 2.74 ERA in his last four outings, and the Orioles acquired veteran Scott Feldman from the Cubs in a trade last week.
Showalter said the Orioles could go to a six-man rotation for a brief period before the All-Star break, and he also said that one of the team's starters could wind up in the bullpen to make room for Chen. The bottom line, said Showalter, is that the team is better off for having choices.
"I don't think it's complicated, because we're dealing with some good people," he said. "What's complicated is when you don't have a good option. We'll see how things work in our bullpen the next couple days. We don't have to do anything for a while, especially as well as Zach has pitched."
Chen, who went 12-11 with a 4.02 ERA last season, said Friday that he feels healthy and is looking forward to getting back on a Major League mound. The left-hander has made two rehab starts, and he said he attacked both sides of the plate in Thursday's outing for Double-A Bowie.
"I'm definitely ready to pitch for my next start. Same approach to every game," he said via interpreter Tim Lin. "Like [my] last outing, I'm ready to pitch, but if they want to be safe, to pitch one more rehab game, [I'll] just do down there and get the job done. Right now, I'm coming back ready to [do] the job again."
Chen, who will turn 28 later this month, made 32 starts for the Orioles last season, and he said Friday that it was frustrating to be sidelined while his teammates are fighting to stay afloat.
"It's definitely part of baseball," said Chen of the disabled list, "but I definitely miss playing with my teammates and playing for the Orioles. I'm ready to come back and help the team to win."
Spencer Fordin is a reporter for MLB.com. This story was not subject to the approval of Major League Baseball or its clubs.