Orioles to recall Britton for Tuesday start in Detroit
Orioles to recall Britton for Tuesday start in Detroit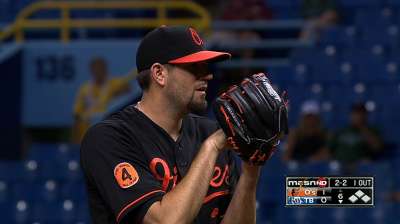 DETROIT -- The Orioles will recall left-hander Zach Britton to start Tuesday's game against the Detroit Tigers, as righty Jason Hammel continues to work back from a stomach virus.
"He's still pretty weak, but he's getting better every day," Orioles manager Buck Showalter said of Hammel, who has been sick since Friday and stayed away from the clubhouse for the first couple days of his illness.
"The good news is we got contingency things in place," Showalter said. "People that are capable of doing well. We got [Chris Tillman] there Wednesday and the off-day there [on Thursday]. I don't think you are looking at DL with [Hammel]. Obviously you are going to have some backdate there, [but] you don't want to lose him for six or seven days if you don't have to. The other problem, too, if you put him out there and he's weak and only able to go an inning or two, then you are really putting some people in harm's way."
Hammel was out on the field for Monday's pregame session in Detroit, and given that Tillman is slated to go Wednesday afternoon, it's likely the team will have Hammel make his next start following Thursday's off-day.
Hammel was originally slated to start Monday's game, but right-hander Jake Arrieta got the nod in his place. The Orioles optioned Arrieta following Monday's 5-1 loss, with the corresponding roster move expected to be Britton.
Britton will be making his second big league start this year and has gotten positive reports on his past few outings for Triple-A Norfolk. In 11 Minor League starts, the lefty has a 3.28 ERA and has allowed 28 runs (22 earned) on 65 hits and 23 walks. He has struck out 44 over 60 1/3 innings. Britton's lone start for the O's this year came against Seattle, and he surrendered six earned runs on 10 hits and two walks over six innings.
Brittany Ghiroli is a reporter for MLB.com. Read her blog, Britt's Bird Watch, and follow her on Twitter @britt_ghiroli. This story was not subject to the approval of Major League Baseball or its clubs.