Casilla nursing jammed right index finger
Casilla nursing jammed right index finger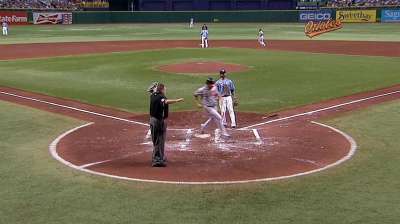 BALTIMORE -- Orioles second baseman Alexi Casilla was not available to start Tuesday's game against the Angels.
Casilla was caught attempting to steal second base Sunday against the Rays, and in the process he jammed his right index finger.
He did not play in Monday's game and tried to play catch Tuesday, but said he only threw the ball once because the finger was still too sore.
"Lexi's a little better today -- not quite where he needs to be to start -- but he's available to us to some extent," manager Buck Showalter said. "The swelling is starting to go down so that's good."
Casilla had the finger wrapped in the clubhouse before Tuesday's game and said he's available to pinch-run, but joked that he'd be sure to slide feet first.
"It's the ligament I think," Casilla said. "I just tore my ligament a little bit. I'll be fine tomorrow. I've just got to let the medicine work."
Casilla went 2-for-3 with a walk and two RBIs in Sunday's game, and there was talk about using him more as a starter at second base, instead of as a pinch-runner off the bench. So the injury potentially comes at a bad time for Casilla. But he said he doesn't see it that way.
"You know, everything happens for a reason," Casilla said. "I'm not going to be mad about this because everything happens for a reason. I am going to try to stay calm and be patient and be ready to play any time my finger [will] let me play."
Derek Wetmore is an associate reporter for MLB.com. This story was not subject to the approval of Major League Baseball or its clubs.