McFarland, Patton step up after Hammel's ejection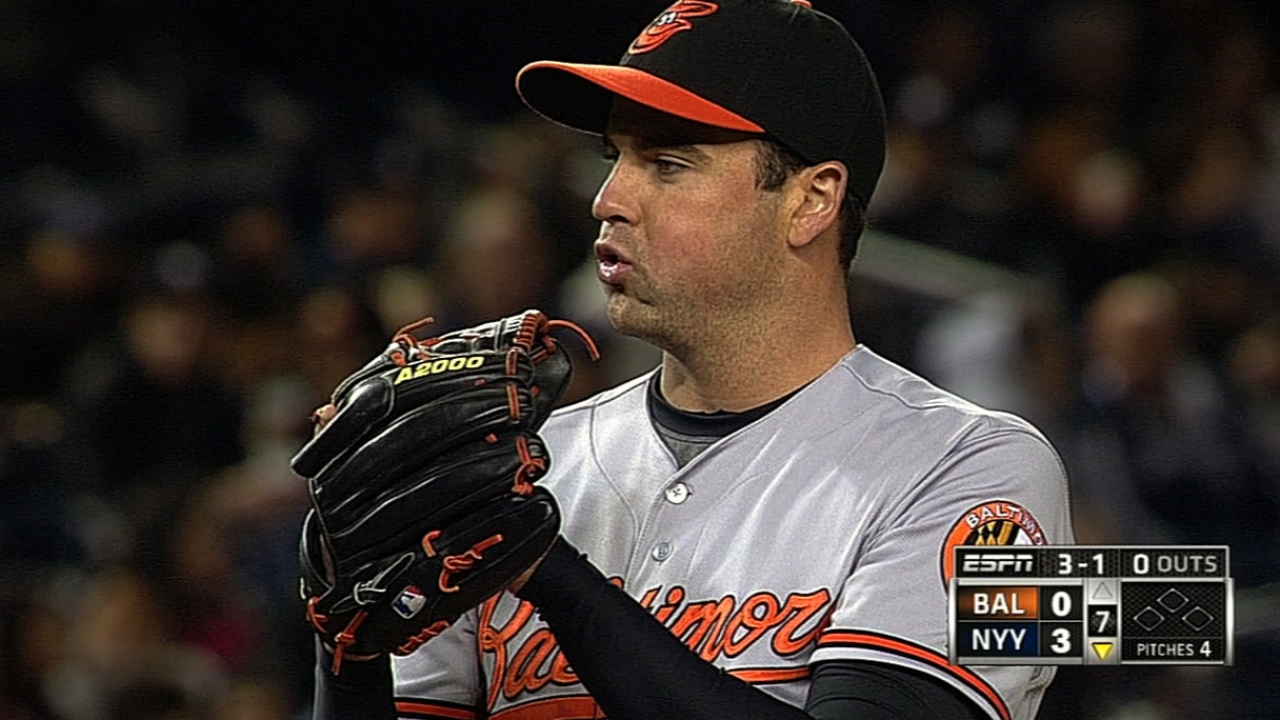 BALTIMORE -- Orioles manager Buck Showalter talked before Saturday's game about the importance of deep outings from the starting pitchers. Freddy Garcia's eight innings Thursday, for example, allowed Showalter to save relievers for the Tigers series this weekend.
But in the fourth inning Saturday, starter Jason Hammel got ejected when he hit Matt Tuiasosopo following three consecutive Tigers home runs.
That meant the bullpen would have to pitch six innings, and it could have been back to square one for a 'pen that had been taxed earlier this week.
But relievers T.J. McFarland and Troy Patton combined to throw five innings and Tommy Hunter pitched an inning.
"Oh yeah, I mean we could have easily used guys," Adam Jones said. "But we've got some guys that can be stretched out, which is cool. [McFarland] might be down for tomorrow, but we've got guys that are not just any guys, we've got some guys that can go three-plus [innings]."
"We've got some versatility down there, which is pretty unique."
Patton has struggled recently, but pitched two scoreless frames Saturday with three strikeouts and no walks.
"I still didn't like giving up a hit to a lefty on an 0-2 count. I still didn't feel good about that because a located pitch gets a guy out right there," Patton said Sunday. "But I felt better overall. I attacked the zone a lot more. I mean, I'd rather be giving up singles than walking guys, honestly, any day of the week. Especially in my role, walking guys is just unacceptable. My main focus is to throw strikes and get ahead of hitters, and I feel like I did a lot better job of that [Saturday] than I had been."
McFarland, a Rule 5 Draft pick, has pitched at least two innings in 10 of his 13 appearances this season. Only Minnesota's Anthony Swarzak (11) has more relief outings of two innings or more.
"I was really proud of T.J. for sticking it out," Patton said. "He threw a lot of pitches against a tough lineup, I mean, he went two times through really good hitters. It showed a lot of intestinal fortitude for him to stick three innings out right there. It was a big test for him, Buck put him in a tough situation and he responded well with those three innings."
Derek Wetmore is an associate reporter for MLB.com. Follow him on Twitter @DerekatDotCom. This story was not subject to the approval of Major League Baseball or its clubs.