X-rays negative on Hunter's pitching hand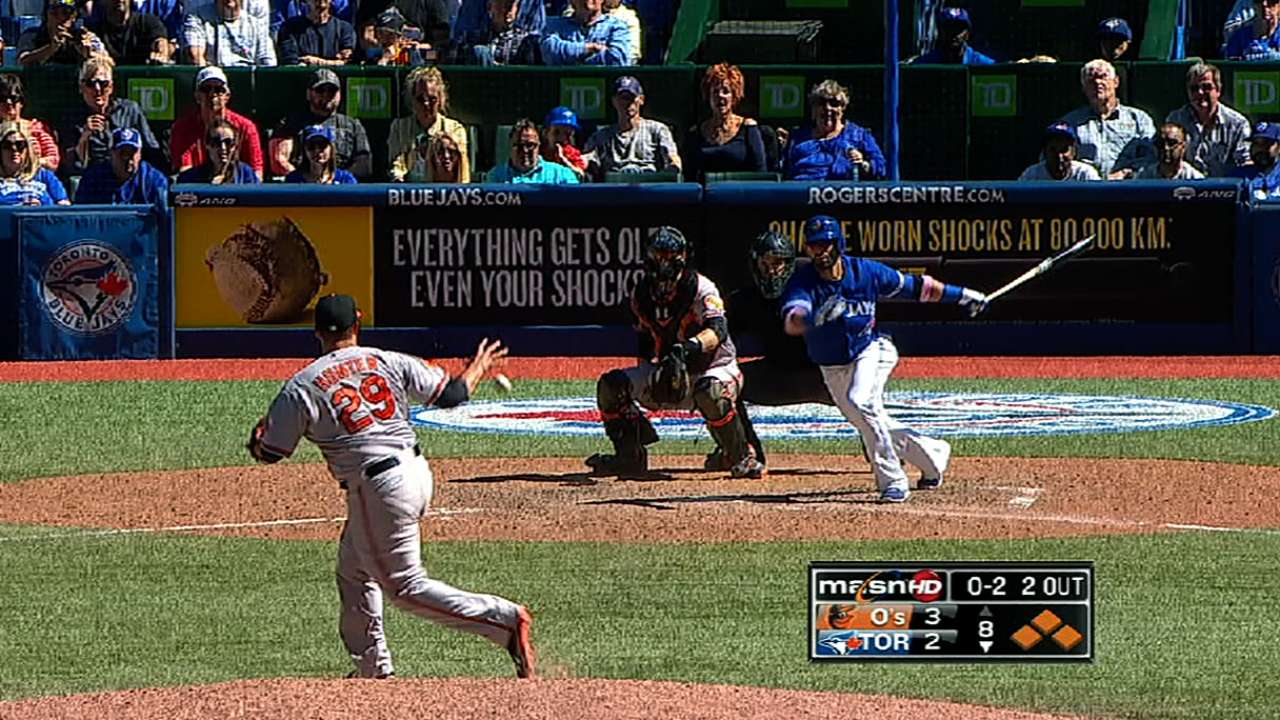 TORONTO -- Orioles reliever Tommy Hunter fielded a hard-hit ball from Toronto's Jose Bautista with his bare hand in the eighth inning of Sunday's 6-5 walk-off loss. He had an X-ray taken after the game that came back negative.
Hunter was tasked with facing Bautista with the bases loaded and the Orioles leading, 3-2. The hard-throwing righty peppered Bautista with three straight fastballs clocking at 98, 98, and 99 mph before Bautista drilled another 99-mph heater up the middle. Hunter's instincts kicked in and he reached out to field the scorcher with his throwing hand before jogging toward first base and tossing it to Chris Davis for the final out of the inning.
"It was crushed," said Hunter, who had his hand wrapped in a tensor bandage. "Sometimes you play a little shift on him, but on a ball up the middle. I just wasn't able to get my glove there fast enough."
Hunter was optimistic he wouldn't miss any time, but it's entirely too early to determine if that would be a reality. Manager Buck Showalter was already preparing for Hunter, who said he will be reevaluated Monday, to be out a couple days.
The 26-year-old Hunter said it felt exactly how it looked.
"It feels like it got hit by a baseball," Hunter said.
Blue Jays starter Chad Jenkins couldn't believe the play, and neither could many of Hunter's teammates, who were talking about it following the contest.
"If something is not broken, he might have the strongest hand ever," Jenkins said.
Hunter, who allowed one run on four hits over 1 1/3 innings, also worked out of a bases-loaded jam to end the seventh inning.
Chris Toman is a contributor to MLB.com. This story was not subject to the approval of Major League Baseball or its clubs.