Machado making history for Orioles to begin season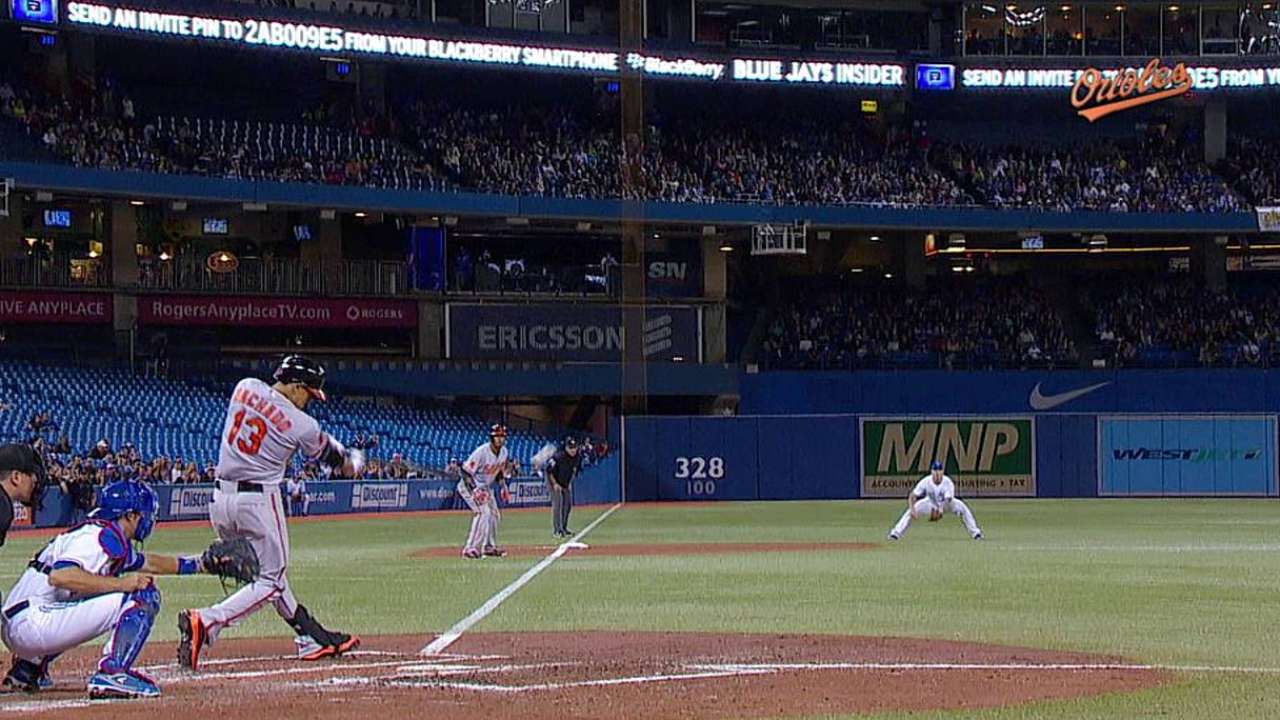 TORONTO -- Orioles third baseman Manny Machado burst out of the gates to start the season and is hitting his way into some elite company.
Machado, 20, entered play Saturday with the second-most hits in the Majors with 70, while his 21 doubles are three more than any player in the game. According to STATS, Machado's hit total is the most by any player under the age of 21 in Major League history before the start of June since 1921, surpassing the 66 hits Ken Griffey Jr. recorded in 1990.
It's not just Griffey whose name Machado is associated with these days. In Friday's win, Machado recorded his fifth consecutive three-hit game on the road, becoming the only player since Ty Cobb in 1907 to accomplish that feat, according to Elias. No other player in Orioles history has ever had five straight road games with three hits or more.
And after clubbing three doubles in Baltimore's series opener against the Blue Jays on Thursday, Machado became just the third Orioles player in franchise history to do that twice in the same season. He's respected among his peers well beyond his years and is turning heads with his abilities on both sides of the diamond..
"He's one of those guys. They're rare," Blue Jays manager John Gibbons said. "They get to the big leagues quick and then it's all success. Right now, he's locked in. He's just a good hitter; he'll use the whole field."
Machado has made a lot of noise with his bat and glove during Baltimore's trip in Toronto. He turned a double play in Friday's victory that had his teammates talking postgame, and he also raised his batting average to .335, sixth best in the American League.
O's manager Buck Showalter described Machado as a sponge who has too much pride to ever be satisfied with his ability.
"He's willing to put in the work, and it has paid off for him," Showalter said. "He has taken it to another level defensively for us."
Advanced defensive metrics back Showalter's assertion. According to Fangraphs.com, Machado's nine defensive runs saved this season is the top mark among all players in the American League, and he is well outpacing any third baseman.
"He's so relaxed. Confident, no panic and he swings it," Gibbons said.
Chris Toman is a contributor to MLB.com. This story was not subject to the approval of Major League Baseball or its clubs.