Gausman looks toward next start vs. Washington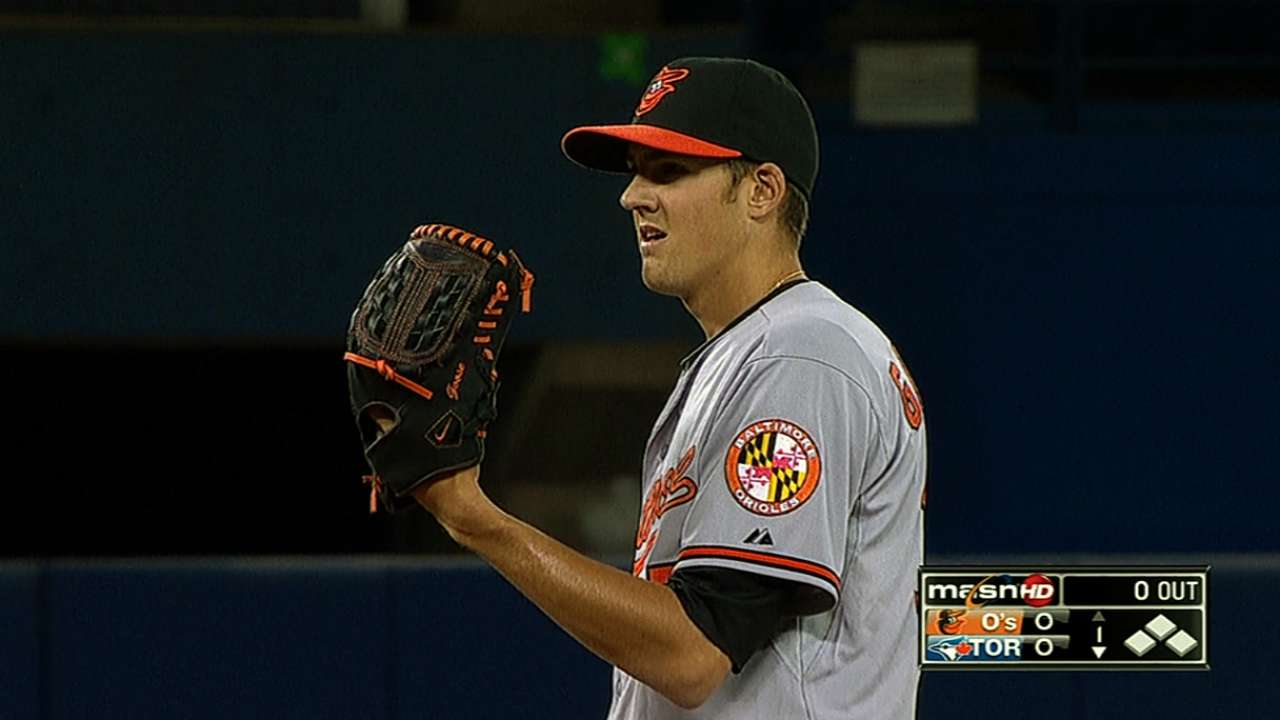 TORONTO -- After making his Major League debut on Thursday, right-hander Kevin Gausman returned to his locker and was greeted with a plethora of text messages from friends, family and former Minor League players who congratulated him on the honor. The whole moment was surreal -- he said his heart was pounding when he took the mound -- but he calmed himself down after punching out Adam Lind on a changeup to end the first inning, one of the best pitches he thought he threw all night.
But on Friday, Gausman was ready to get to work and is looking ahead to his next start, which will come against the Nationals on Tuesday. He believes he will be more prepared for Washington by having some extra days to study the club on film, compared to what he had with Toronto, which was only one day before his start.
Watching video and coming up with a gameplan on how to attack each specific hitter is new territory for him. He said that in the Minor Leagues, there is no such thing as studying video.
"I feel great going forward. I feel like my stuff played here at this level," the 22-year-old Gausman said. "I'll be using all the video that all the other guys use."
Making the jump to the Majors one year after being selected as the fourth overall pick in the 2012 First-Year Player Draft is something Gausman said he couldn't have imagined. He believed he was fairly polished coming out of Louisiana State University, but said he had to make more adjustments than ever during his first crack at professional baseball last year.
One of the things he switched was his arsenal, thanks to the advice of Orioles director of pitching development Rick Peterson. At LSU, Gausman threw both a slider and curveball, but Peterson advised him to stick with one breaking ball. So Gausman ditched his curveball, and believes that expedited his development by not having to worry about polishing a number of different offerings.
Gausman, who surrendered four runs over five innings in his debut, realized quickly that he is not able to get away with mistakes in the Majors like he could in the lower levels.
"There is a big difference between Double-A and the big leagues with how smart hitters are," Gausman said.
Gausman's slider is one thing he has identified as something to work on. He didn't go to it too much against Toronto, relying instead on his fastball-changeup combination. His heater reached as high as 99 mph, which is the same speed his favorite pitchers -- Matt Harvey and Justin Verlander -- can reach.
"I'm just trying to get better every time I go out there. I feel good, I feel healthy and everything is coming out of my hand really well," Gausman said.
Chris Toman is a contributor to MLB.com. This story was not subject to the approval of Major League Baseball or its clubs.