McLouth dives into crowd for catch; almost hit by drink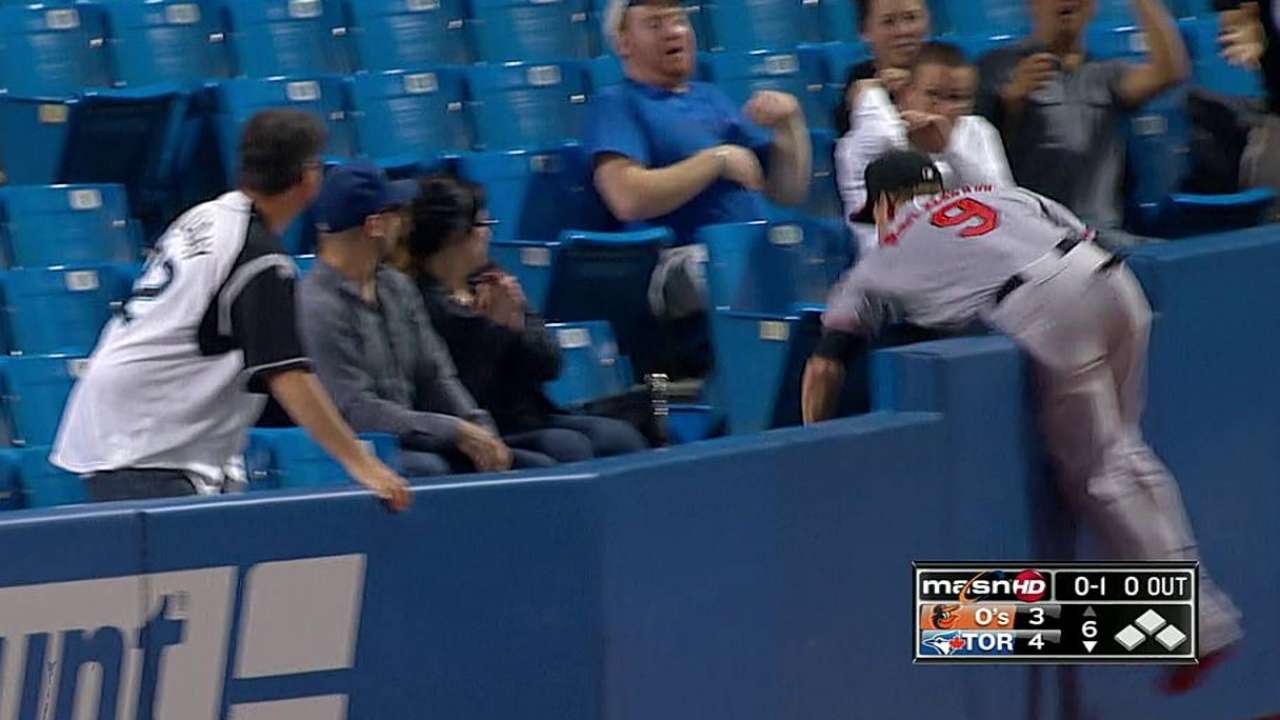 TORONTO -- Nate McLouth found himself in the middle of a play on Thursday he likely won't forget.
McLouth aggressively pursued a fly ball that Colby Rasmus hit to left to lead off the bottom half of the sixth inning, which was hooking foul. The 31-year-old McLouth made the catch right before crashing into the wall down the left-field line and flipping into a bunch of fans who were seated in the first couple of rows.
After taking a brief moment to get to his feet, McLouth rose up and held the ball in his glove, while the section of fans were making gestures with their arms in an attempt to persuade third-base umpire Manny Gonzalez that he dropped it.
Gonzalez, however, ruled it a catch.
"The only thing that I hit a little bit was my shins," said McLouth, who went 2-for-5 in Baltimore's 12-6 loss. "On top, there is a kind of like a metal bar on top of the wall -- my shins scraped it a little bit. But it wasn't too bad."
Things got ugly fast after that.
As McLouth was preparing to throw the ball back into the infield, a fan situated behind the Blue Jays bullpen in left threw a bottle on to the field that just narrowly missed him.
A startled McLouth shot a look back, but he said everything happened too fast for him to realize exactly where it was coming from. Despite the potential danger that came with the ill-advised decision from the spectator, McLouth brushed it aside as an isolated incident.
"I'm not really sure how close it landed. I kind of had my back turned and sort of heard something hit behind me," McLouth said.
"That's just one person doing something they shouldn't do."
The fan was spotted by security and ejected from the game. McLouth complimented the job done by the umpires and security during the ordeal, which prompted manager Buck Showalter to race out to the outfield.
"It's unfortunate," Showalter said. "The umpires and the security did what they do. Unfortunately, it happens in ballparks now and then. Usually it's one person. You don't group the whole."
Chris Toman is a contributor to MLB.com. This story was not subject to the approval of Major League Baseball or its clubs.