Hamstring strain sends Reimold to disabled list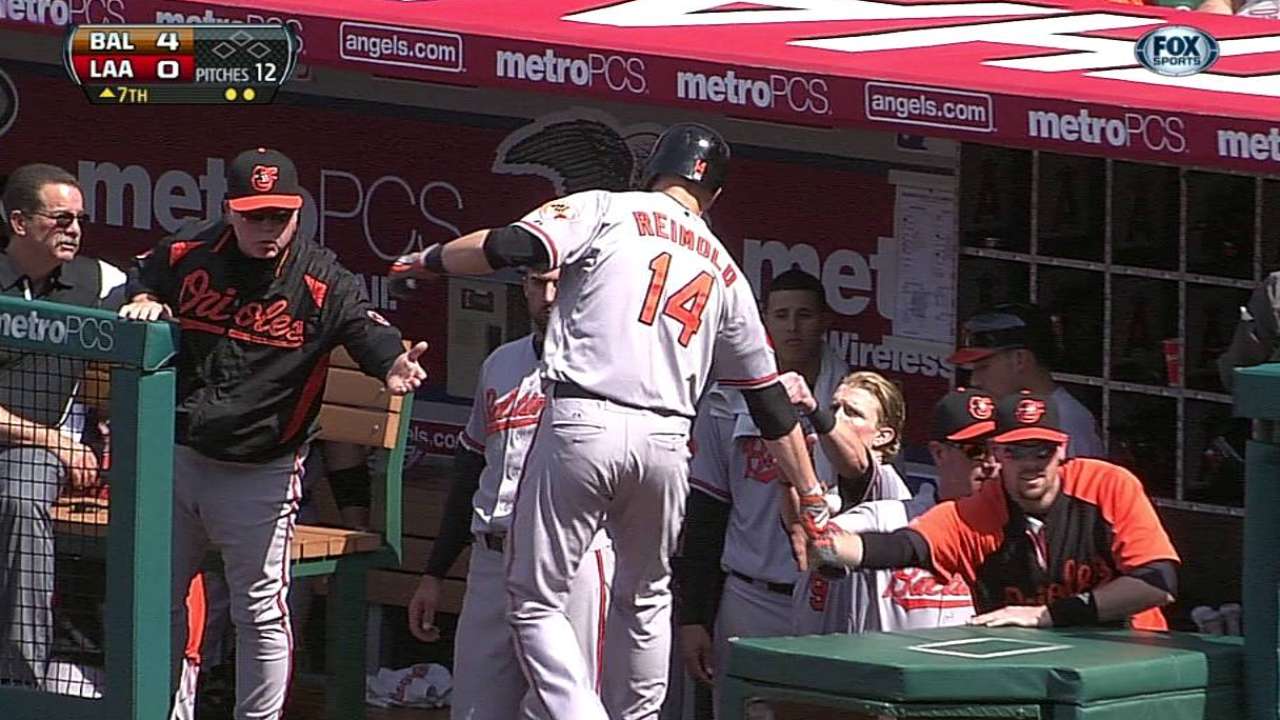 BALTIMORE -- The Orioles placed outfielder Nolan Reimold on the 15-day disabled list with a right hamstring strain prior to Saturday's game. The 29-year-old, who hasn't played in a week, will now be sidelined for at least another nine days.
"We kept thinking it would resolve," manager Buck Showalter said of the injury, which has lingered since Spring Training. "It won't just completely go away. So with the six days we can backdate [the DL assignment], we'll try and clean it up and see if we can get it resolved completely. It's one of those things when he decels ... maybe to the naked eye up in the stands, because he runs well, you don't see it as much.
"It's something that I just want to resolve it if we can. It may not be in the nine days. And plus, after that I want to get him some at-bats and he'll tell us when he feels right."
Reimold worked hard to be a full-go this spring coming off season-ending neck surgery, and the hamstring injury has hampered him, particularly on the basepaths.
"There were times when, just walking, it would tug," Reimold said. "Going up stairs, I could feel it tugging pretty good. Then other times, it wasn't too bad. Playing, it would aggravate and tighten back up and be a real nuisance, I guess. And there were times I'd be on base, and that's why I was getting pinch-ran for at the end of the game.
"I don't consider myself a slow person, but if you've got to make that first to third or first to home, you have to be able to run and change direction. But I always went as hard as I could, to be honest. I always ran as hard as I could, but I had limitations."
Showalter said there have been several times Reimold has been hesitant to steal a base because of his hamstring, and he talked over the scenario with Reimold for the first time on Friday.
"I think he understands where we are and what we want to do," Showalter said. "I wouldn't say [he's] down, but obviously nobody wants to go on the DL. At the end of the day, he asked me what I want to do, and I said I'm going to do whatever you want me to do.
"The problem is I can't tell you whether this period will clear it up completely, but I'm frustrated for him ... [Sometimes because] of the cold weather, it would cramp up on him. It didn't really affect him hitting, but who knows?"
Reimold hit .188 in 31 games with four homers and nine RBIs, and he was 1-for-15 in his last four games.
"I had those days off where I hadn't played, and then when I did play, I wasn't exactly on base to aggravate it any more," Reimold said. "It doesn't feel too bad right now, so I'm hoping it will resolve quickly and I'll get back quick."
Brittany Ghiroli is a reporter for MLB.com. Read her blog, Britt's Bird Watch, and follow her on Twitter @britt_ghiroli. This story was not subject to the approval of Major League Baseball or its clubs.