Davis not likely to land on disabled list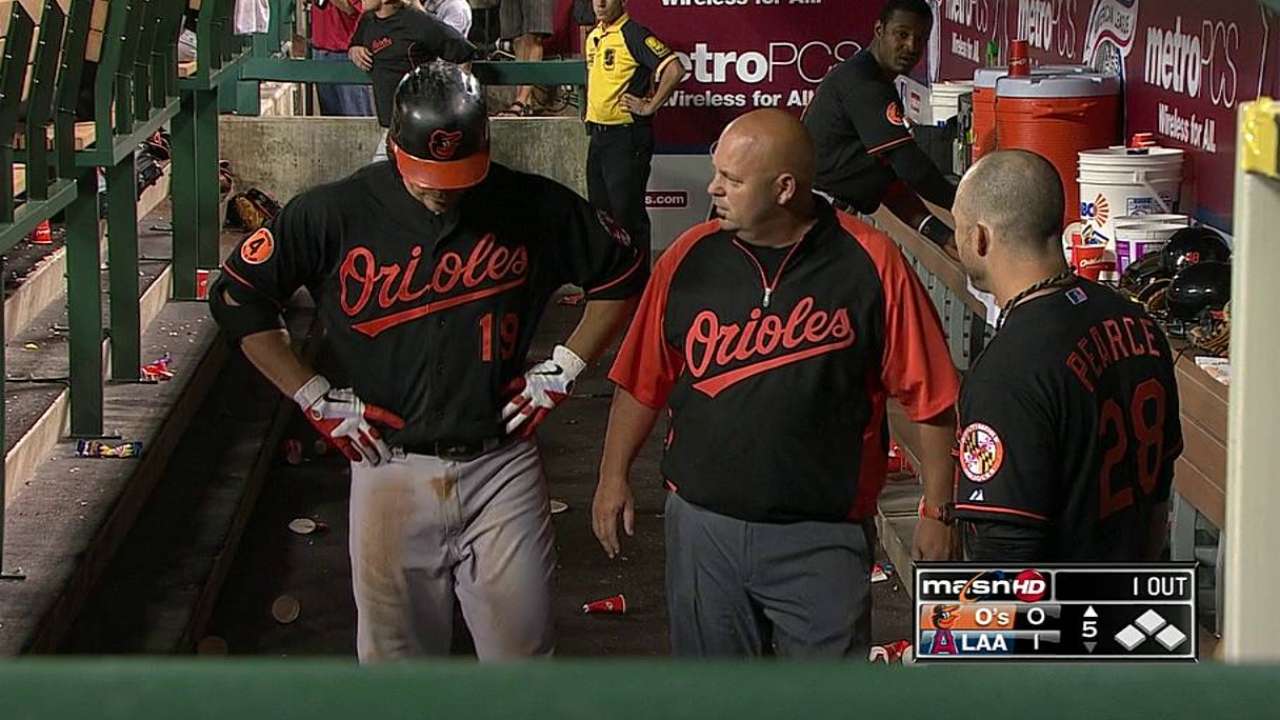 ANAHEIM -- Chris Davis was diagnosed with right knee tendinosis, and the Orioles remain optimistic that the first baseman will avoid the disabled list given the encouraging results from Saturday morning's MRI.
"I thought if it was really serious, obviously I wouldn't have come out of that game and walked around here and talk to you guys [in the media] in a good mood," said Davis, who left Friday night's game in the fifth inning after sustaining the injury running out a ground ball.
"It's one of those things, going to the bag hard; [I] felt some discomfort today still a little bit. Got the MRI back, everything's intact. Nothing is wrong with the knee structurally, which is really good. My patellar tendon felt a lot better today, going up and down the stairs."
Davis is considered day-to-day, and it's unknown if the first baseman -- who wasn't in Saturday's lineup -- will play before the team returns to the East Coast on Sunday night. He will try to run on Sunday morning, and given that the team's has an off-day Monday, Davis said his target right now is probably "a soft Tuesday."
"We haven't gotten anything negative to make us think that [the DL is a possibility], but he hasn't done anything on the field yet," manager Buck Showalter said. "We're letting it quiet down. We'll see if he can play there tomorrow or not. There's some temptation given the off-day sitting there, a very rare off-day in our case. We'll see.
So, Davis could potentially play Sunday if he comes in and says everything is good?
"He said he was doing some things in the [training] room he probably shouldn't have been doing, and said he felt good last night," Showalter said. "We can't hit outside tomorrow. There's a fine line between pushing it to see how it is and having a setback."
Davis, an integral part of the team who is coming off an April in which he was named the American League Player of the Month, hasn't had any prior injuries to his right knee and has been able to walk around the clubhouse without any issue. He has been getting regular treatment on the area and, according to executive vice president of baseball operations Dan Duquette, the team's doctors will look over Saturday's MRI back in Baltimore on Monday.
"In all honesty, I would have loved to play today," Davis said. "I don't like missing games, obviously."
Still, the 27-year-old had a pretty good seat in watching Steve Pearce -- filling in for Davis at first base -- collect the game-winning hit in the Orioles' 5-4, 10-inning win.
"That spot right there. Put somebody at first, it's looking good right now," Davis said. "I'm happy for Pearce. It's kind of the same thing we ran into last year. Guys got injured, other guys filled in and stepped up. I keep saying that's the great thing about this team; nobody cares who gets the credit at the end of the day as long as we get the 'W.' And we got the 'W.' And I ate a lot of seeds."
Brittany Ghiroli is a reporter for MLB.com. Read her blog, Britt's Bird Watch, and follow her on Twitter @britt_ghiroli. This story was not subject to the approval of Major League Baseball or its clubs.