McLouth believes he can handle facing lefties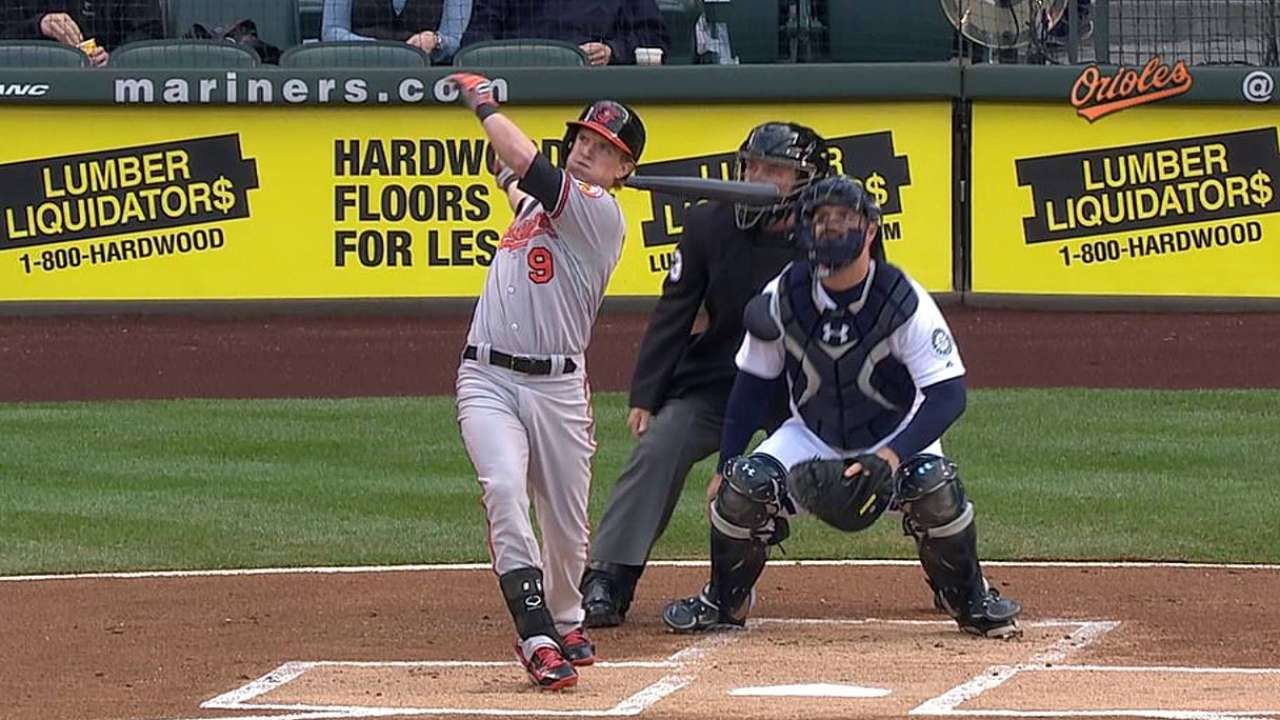 ANAHEIM -- Orioles outfielder Nate McLouth, who has been on an offensive tear, hopes there will come a time this season when he can get some consistent at-bats off left-handed pitching. It's an option manager Buck Showalter has thought about, but -- so far -- has largely shied away from, choosing instead to work in right-handed hitters Nolan Reimold and Steve Pearce.
"When you see guys spitting on balls a couple inches off the plate … you can tell he's seeing the ball good and letting it travel," Showalter said of McLouth, who entered Thursday batting .432 (16-for-37) with 14 runs scored and seven walks over his last 10 games. "He's not missing pitches when he gets them.
"Do you expand what you are doing with him or do you say this is part of the reason why he's doing so well? There's also from a team standpoint, things you want to keep in the flow with everybody."
McLouth, who is batting .329 through the first 27 games of the season, said he's never had a stretch during his Major League career where he was this good for this long. The key so far? Slowing down each at-bat, which McLouth feels enables him to be more selective.
"I feel like I've been able to control at-bats well and get in counts that I want to get in and swing at pitches I want to swing at," he said. "That's the most important thing. It's harder to do at times than it seems like it should be. It kind of sounds stupid, but if you swing at good pitches, the likelihood of doing something good, or hitting the ball good, is much better. I feel like that's what I'm happiest about, is the way I've commanded my strike zone."
McLouth, a left-handed hitter, owns a career .222/.302/.348 line against left-handed pitching in 773 plate appearances versus a .260/.350/.449 in 2,307 appearances against righties. He is 2-for-11 against lefties this season, with a homer and two RBIs.
"I'm not scared to hit lefties, I don't shy away from it," McLouth said. "But hopefully there will be a time where I get back to I can hit lefties OK and hold my own against them. Hopefully there will be a time where I can get more consistent at-bats against lefties. But this is a team, and Buck is going to put the best lineup out there every night that he thinks is the best lineup to win that game."
The thought on getting Pearce and Reimold in against lefties is that it will help get them going. The Orioles' bottom of the lineup struggled in the season's first month, and Reimold in particular -- who entered Thursday's game hitting .203 -- has shown flashes of being able to carry the team offensively.
Brittany Ghiroli is a reporter for MLB.com. Read her blog, Britt's Bird Watch, and follow her on Twitter @britt_ghiroli. This story was not subject to the approval of Major League Baseball or its clubs.