Teagarden dislocates thumb, likely going to DL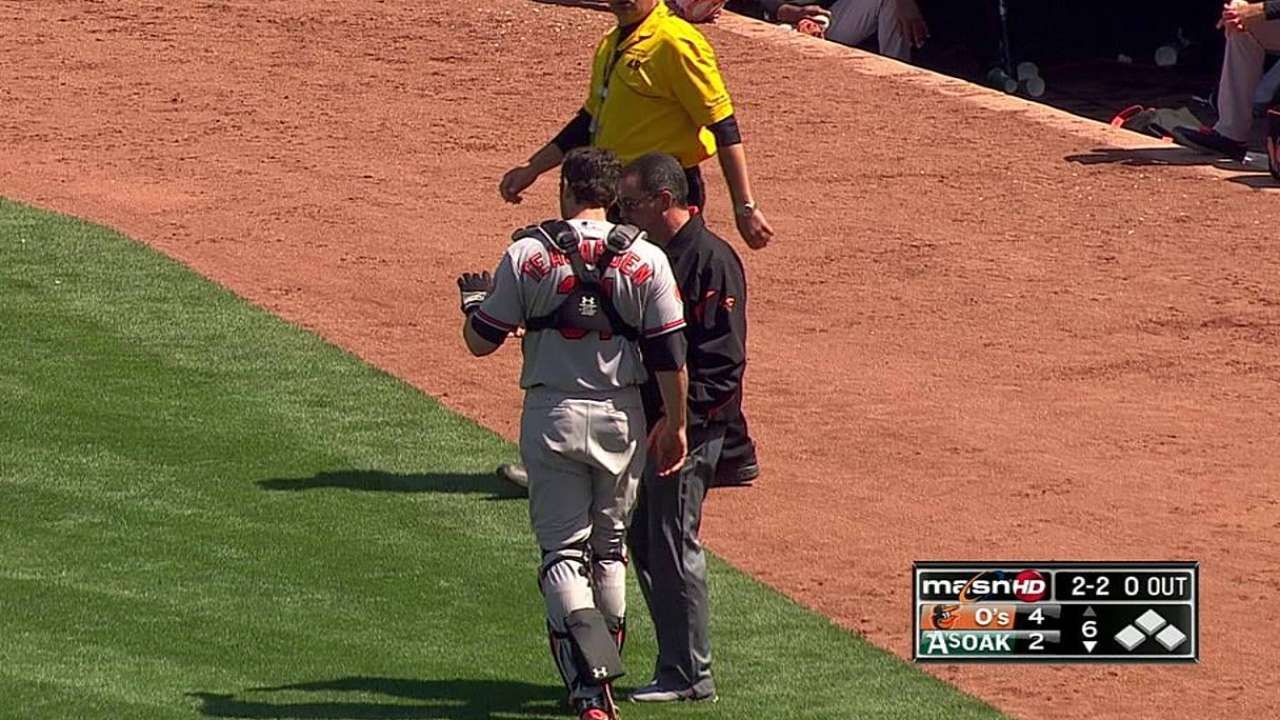 OAKLAND -- Orioles catcher Taylor Teagarden left Saturday's game with a dislocated left thumb.
In the bottom of the sixth inning, A's third baseman Josh Donaldson hit a foul tip that appeared to hit Teagarden's thumb or wrist. He immediately removed his glove and walked toward the Orioles' dugout.
"This is a freaky kind of injury," Teagarden said. "You never think it's going to happen to you until it does. Hopefully it will not last too long. He fouls it off, and it hit squarely on the tip of my thumb. A 92-mph fastball is going to win every time."
Teagarden said he would likely miss "several weeks," and that will mean a trip to the disabled list.
"They were able to put it back into place, and now it's a matter of a rehab process," Teagarden said. "We'll let it calm down and heal and then get it stronger."
Orioles manager Buck Showalter said he will take a day or two to decide his next move. Steve Pearce is one of the emergency catchers and worked out in the bullpen before the game.
Matt Wieters, who began the day as the Orioles' designated hitter, took Teagarden's place behind the plate, and the Orioles lost their DH for the rest of the game. Pitcher Chris Tillman moved into the No. 9 spot, and he struck out his first and only time up.
Rick Eymer is a contributor to MLB.com. This story was not subject to the approval of Major League Baseball or its clubs.