Dickerson celebrates birthday with promotion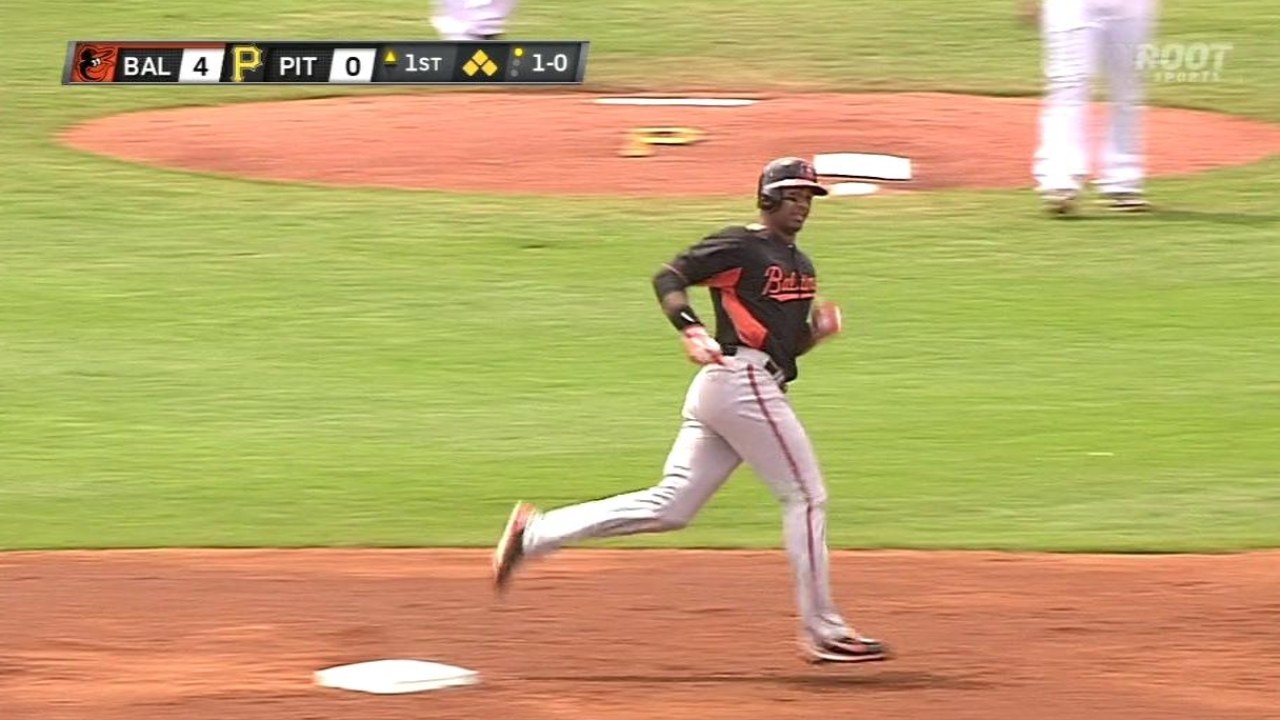 BOSTON -- Chris Dickerson was walking up to leadoff Tuesday night's game for Triple-A Norfolk when he saw Tides manager Ron Johnson flailing his arms and yelling his name. Dickerson, who dug in to the batter's box, thought that maybe Johnson was giving some signs to the third-base coach, but the waving and flailing didn't stop, so he finally went over to see what was going on.
"I'm waiting for him to give me a sign or something," said Dickerson, who celebrated his 31st birthday by having his contract officially selected by the Orioles on Wednesday. "Then he was like, 'No, get off the field. Go pack.' I'm like, 'OK.' It was weird. That's how I found out."
Dickerson took the roster spot of Luis Ayala, who was traded Wednesday to the Braves, and gives the Orioles a fourth man on the bench. His versatility as an infielder and outfielder should prove useful to manager Buck Showalter.
"Plus defender, plus-thrower, a left-handed bat," Showalter said in listing the positives about Dickerson. "The guy has had experience in the American League East, and at this point, as we wait on Wilson [Betemit] and Brian [Roberts] to come back to us, we got options. He's one of many we think can help us here."
Dickerson is a career .266/.352/.407 hitter with 11 home runs and 47 RBIs in 599 plate appearances in five seasons with Cincinnati, Milwaukee and the Yankees. He went 3-for-15 in six games with Norfolk this season and will wear uniform No. 60, a number he had hoped to have changed at the end of camp to something a little more Major League appropriate. Still, it was a minor quibble for Dickerson, who signed as a free agent this winter, as he returns to the big leagues after being one of spring's final roster cuts.
"When I came in, that was kind of one of the deals that was proposed to me when I talked to [executive vice president of baseball operations] Dan [Duquette], is that there was a really good chance that I would make this team," Dickerson said. " And just having the good spring that I did, I felt I fit in and I would offer a lot to the team.
"That's one thing you have to do when you go in. You're constantly competing every day in Spring Training in hopes of earning that spot. When it came down to that last day, it was crushing, but Buck and I talked about it and he said not to be too down about it, because [I] could be back at any time. And he was right."
Brittany Ghiroli is a reporter for MLB.com. Read her blog, Britt's Bird Watch, and follow her on Twitter @britt_ghiroli. This story was not subject to the approval of Major League Baseball or its clubs.