One roster decision remains between Pearce, Jackson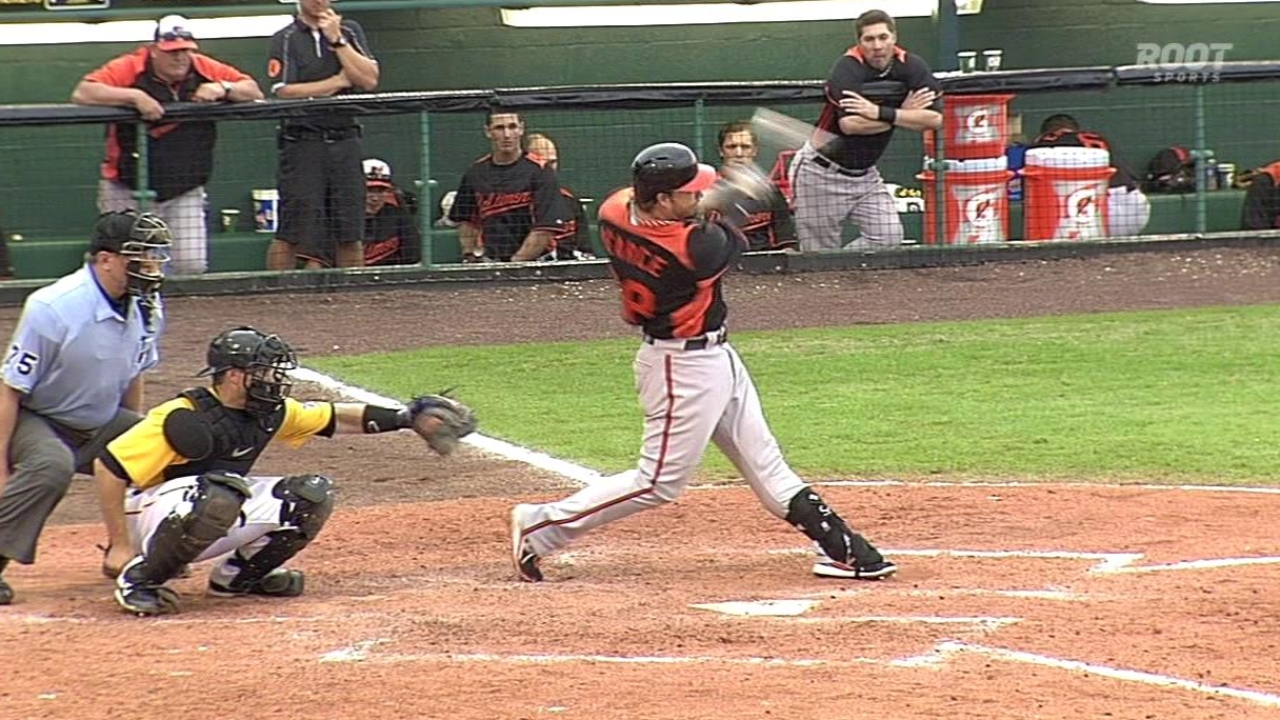 SARASOTA, Fla. -- The Orioles moved one step closer to their Opening Day roster Friday, officially naming Jake Arrieta for the final rotation spot, solidifying their bullpen and leaving one more decision for the last bench spot in either Steve Pearce or Conor Jackson.
Arrieta will start the team's home opener for the third year in a row, with Brian Matusz -- a final rotation candidate -- returning to the bullpen, and right-hander Jair Jurrjens -- the other final candidate -- going to Triple-A Norfolk. Rule 5 Draft pick T.J. McFarland will join Matusz in the bullpen.
The 27-year-old Arrieta, who recorded a 1.56 ERA this spring, never doubted he would make the club.
"No, absolutely not," said the right-hander, who started Opening Day a year ago, but had a disappointing season in which he went 3-9 with a 6.20 ERA. "Whether that's cockiness or overconfidence, whatever you want to call it, that's just the way that I personally had to approach the situation, with that mindset, knowing that I had to go out and actually show it and not just know it in my mind. I think the combination of having that mindset and knowing I had to kind of prove myself helped me get to the point where I am now."
Ryan Flaherty was also informed Friday that he will make the club, as expected, with Wilson Betemit's injury opening up one more bench spot for either Pearce or Jackson. It's a close call for the organization, with both players making a solid impression this spring.
"To be able to help the team out, it was kind of my goal coming into camp and I'm excited to get the opportunity," said Flaherty, a Rule 5 pick a year ago, who will be on his second Opening Day roster. "You never know what's going to happen. You can give the best effort, and outside of that, it's out of your control, so obviously you hear things. You hear this and hear that. The thing I've learned is you can't control everything, so you've got to show up and play hard and be valuable to the team."
Pearce has appeared in 25 games, going 15-for-44 (.341) with six homers and 17 RBIs, while Jackson has played in 22 games, going 16-for-53 (.302) with three homers and six RBIs. They both provide the team with a backup option for first baseman Chris Davis, as well as outfield depth, and that decision could come down to the wire, although Pearce is believed to have a slight edge. The 25-man roster must be set by 3 p.m. ET on Sunday.
Outfielder Chris Dickerson was reassigned to Minor League camp Friday and is expected to play for Triple-A Norfolk.
The Orioles' bullpen will have eight pitchers, including three lefties -- Matusz, McFarland and Troy Patton -- to start the season. Darren O'Day, Pedro Strop, Tommy Hunter, Jim Johnson and Luis Ayala will also be on the Opening Day roster -- barring an injury or trade -- with Chris Tillman on the disabled list, allowing the team an extra roster spot for the first four games before he returns.
"I'm so happy, I'm ecstatic," McFarland said. "It's surreal. This is incredible. I can't really sum it up into words right now. It's a dream come true. Since 2007, when my career started, that's what I've been hoping for, and it finally happened. I'm just so excited."
Tillman's DL stay was backdated, and he will be activated and start the team's fifth game on April 6 at home against the Twins. He threw 81 pitches over five innings Friday and did not experience any more abdominal issues against the State College of Florida, allowing one run and striking out six with two walks.
"I think I'm ready [for April 6], especially after today," said Tillman, who finished his outing in the bullpen and was a little behind schedule after suffering the abdominal injury earlier in camp. "Big step for me. It's not the matter of pitches. It's the number of times you get up and down. That's a big reason I got up one more time in the bullpen."
Backup catcher Taylor Teagarden will also have a spot on the bench, along with infielder Alexi Casilla. Betemit and left-hander Tsuyoshi Wada will start the season on the disabled list, while right-hander Steve Johnson will be placed there shortly, as well.
Brittany Ghiroli is a reporter for MLB.com. Read her blog, Britt's Bird Watch, and follow her on Twitter @britt_ghiroli. This story was not subject to the approval of Major League Baseball or its clubs.