Gausman pleased with big league experience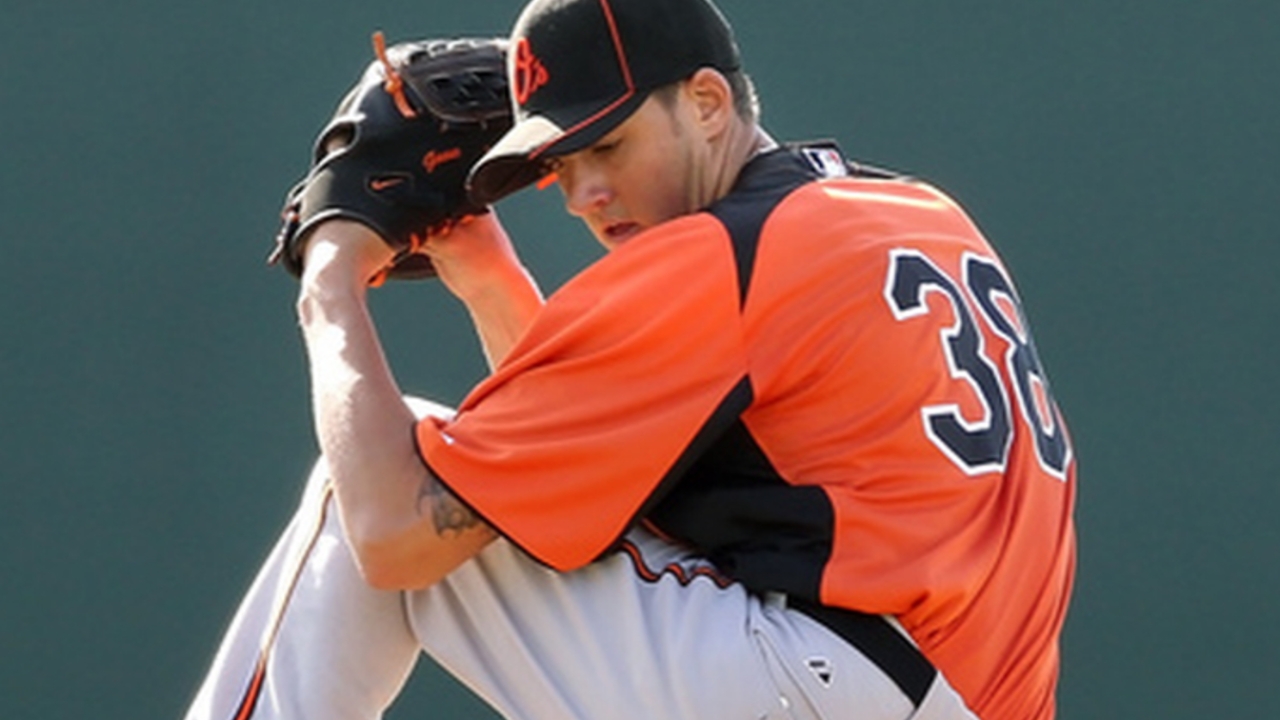 FORT MYERS, Fla. -- If Tuesday was Orioles prospect Kevin Gausman's final spring game, the 22-year-old will leave his first Major League Spring Training with a lot of experience and a good impression on an organization that selected him as the fourth overall pick in last year's First-Year Player Draft.
"He's pretty polished," manager Buck Showalter said of the right-hander, who was drafted out of Louisiana State. "You can see why he was so coveted.
"We felt like he was getting something out of it and he was competitive with it. He didn't seem like he was a fish out of water or over his head."
Gausman, who allowed three runs over 3 2/3 innings in Tuesday's start against the Twins, pitched to a 3.94 ERA in seven spring games, lasting until the final week of Spring Training. The long look, particularly when the Orioles sent fellow top pitching prospect Dylan Bundy down on March 16, was a surprise even for Gausman.
"To be honest, I thought I was going to be in big league camp for maybe a week or two," Gausman said. "Right after [Dylan] Bundy left, I thought, 'Alright, a couple more days.' But I'm definitely happy with it. Don't get me wrong, it's been a blast. I definitely wasn't expecting it."
Using a fastball that topped out at 97 mph, Gausman showcased his stellar changeup on Tuesday and picked up three strikeouts on an incredibly windy afternoon. He threw 69 pitches, 50 strikes, and scattered six hits with no walks. Gausman pitched 16 innings this spring, allowing seven runs on 17 hits and six walks with 17 strikeouts.
"I've learned a lot," Gausman said of his experience in camp. "Probably learned more in my 'pens and things like that then the games. Things happen in the game that you can't really control. But I've learned so much, pounding the strike zone, keeping guys off balance -- guys at this level, you can make great pitches and they are going to hit doubles. So, not much you can do about that.
"It was fun to be around, a fun group of guys. I would say most of these guys are pretty young and that's why it was so much fun to be around them. You don't get any guys who have huge heads or don't want to talk to you because you are the rookie. Stuff like that. It's been awesome on the field. It's been fun to just face guys that I watched on TV last year, and having some success against them is definitely good going forward."
Gausman is expected to start the season at Double-A Bowie, but he and Bundy could be options for the big league club at some point in 2013. Asked if it will be a letdown to be reassigned to Minor League camp, he said: "Yeah, of course. But I really wasn't expecting to make the team. But, going forward, I guess I will see what happens. I definitely won't have any bad taste in my mouth or anything like that."
Brittany Ghiroli is a reporter for MLB.com. Read her blog, Britt's Bird Watch, and follow her on Twitter @britt_ghiroli. This story was not subject to the approval of Major League Baseball or its clubs.