Jurrjens impresses O's with spring improvements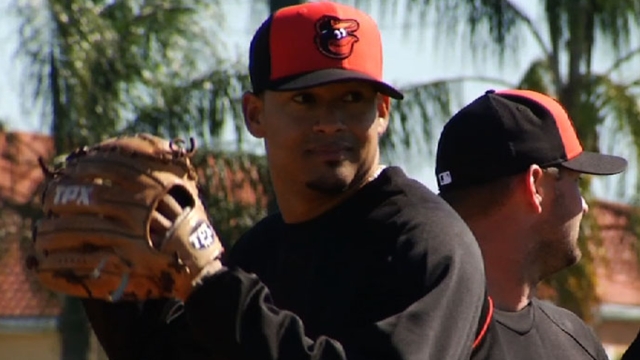 BRADENTON, Fla. -- Jair Jurrjens threw a side session Sunday at the Orioles' spring complex, and manager Buck Showalter singled out the right-hander as someone who improved this spring, with the organization encouraged by his recent results.
"Jurrjens has come a long way with some of the strength stuff and whatever," Showalter said. "He seems to be ... he's got a little better base, he's rotating on a little more. When he first got here, his recovery was a challenge the next day. It's not much of an issue now. A lot of the stuff they are doing has done good. There's nobody in our camp that has his track record at 27 as far as wins and losses and stuff."
Jurrjens signed a Minor League deal with the Orioles after his physical caused concerns over his right knee. He allowed six earned runs in his first three outings -- a 5 2/3-innings stretch -- but allowed only one in eight innings since. He has worked hard with pitching coach Rick Adair to get back to his pre-injury mechanics.
"I'm getting more relaxed and confident on the mound every time I go out there," said Jurrjens, who threw five scoreless innings Friday against the Rays. "I'm not going to try to think about [making the team], I'm just going to go out there and do my job, and let the ones who make the decisions make the decisions."
Jurrjens has an outside shot of breaking camp with the team, but will most likely be in Triple-A Norfolk's rotation. He could certainly be an option for the big league team sooner rather than later. His opt-out clause does not kick in for a few months, and the organization has been encouraged with how he's rebounded from a shaky start this spring.
"He's been able to throw the ball down in the strike zone," executive vice president of baseball operations Dan Duquette said. "He feels more comfortable in his delivery and he's thrown much better than he threw last year, for example. And he looks more like the year before."
For Jurrjens, having the peace of mind of finally being healthy has been a welcome change this spring.
"You just need to worry about throwing strikes now," he said with a smile. "You don't need to be like, 'Oh, is he going to hurt his knee?' No. Now I can just concentrate on the hitter and that's it."
Brittany Ghiroli is a reporter for MLB.com. Read her blog, Britt's Bird Watch, and follow her on Twitter @britt_ghiroli. This story was not subject to the approval of Major League Baseball or its clubs.