As East rivals, Showalter to see Dickey's knuckler often
Back with Rangers, O's skipper convinced right-hander to focus on one pitch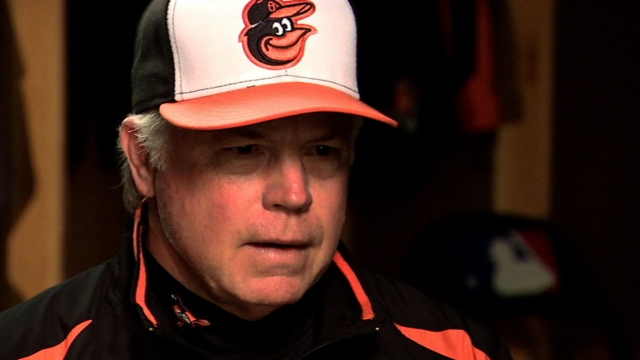 SARASOTA, Fla. -- Orioles manager Buck Showalter hopes his baseball savvy doesn't backfire on his bid for a second consecutive trip to the playoffs.
In 1995, Showalter was in his final season as manager of the Yankees when a light came on -- young Mariano Rivera was not destined to become a big-time starting pitcher with only one strong weapon in his arsenal.
Showalter dispatched the rookie right-hander and his now-famous cut fastball to the bullpen. The entire baseball world knows how that turned out.
In charge of the Rangers a decade later, Showalter convinced aging R.A. Dickey that only one pitch, a bewildering knuckleball, could extend his career in a starting role.
Showalter was reminded of his genius last June, when Dickey became the first National League pitcher in 68 years to go the distance in consecutive one-hitters. He struck out 13 Orioles in the second gem for the Mets.
Showalter is about to see much more of the reigning NL Cy Young Award winner, who was traded in December to one of the O's division rivals, the Blue Jays.
Last year, Rivera caused limited harm -- except to himself by tearing up his right knee shagging fly balls before a game at Kansas City in May -- but he looks typically solid entering his farewell tour.
"I was not born with a great knuckleball, like he was born with a great cutter," Dickey said of Rivera before leaving his new teammates to represent the U.S. in the World Baseball Classic. "I had to really, really work at it. It was grueling."
Bob Bellone is a contributor to MLB.com. This story was not subject to the approval of Major League Baseball or its clubs.