Showalter keeps Gonzalez away from Red Sox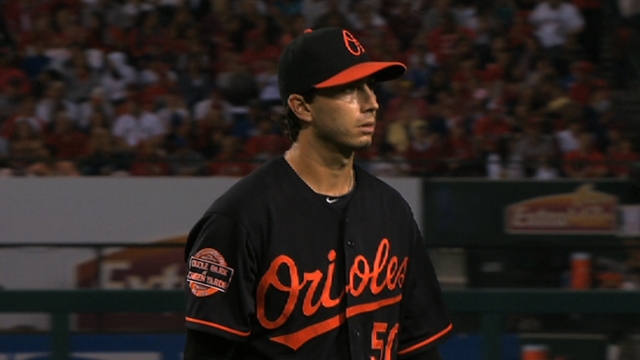 SARASOTA, Fla. -- Though the Red Sox's split-squad lineup on Friday wasn't exactly filled with regulars, Orioles manager Buck Showalter still preferred not to give Boston an early look at starter Miguel Gonzalez.
Instead, Gonzalez will pitch four innings against a Double-A squad in front of pitching coach Rick Adair at Twin Lakes. The Orioles are currently in the midst of a stretch in which they play seven of nine games against either American League East rivals or the Twins, whom they face in their home-opening series.
"Power pitchers, relievers, whatever -- who depend a lot on velocity and stuff -- I don't really care about them. It's no secret what's going to happen," Showalter said. "But when you get into guys who depend on pitch sequences and multiple pitches -- the [Jason] Hammels and [Wei-Yin] Chens and Gonzalezes -- I don't like [them facing division foes]. We're going to face them enough during the year."
If it seems like Showalter is being overly cautious, he does have another reason for sending certain starters to Twin Lakes instead of using them in Grapefruit League contests -- which he will do again with Chris Tillman on Saturday and Chen on Monday.
"It's also because you control the pitch counts down there," Showalter said. "If he throws 15, 20 pitches in an inning, we can say, 'That's enough.' So we know he's going to reach the perfect pitch count and innings pitched over there. He's not going to all of the sudden have 30 pitches in an inning and we have to sit him down after two innings here. So we control the environment."
Paul Casella is a reporter for MLB.com. Follow him on Twitter @paul_casella. This story was not subject to the approval of Major League Baseball or its clubs.