Markakis progressing, in mix for leadoff spot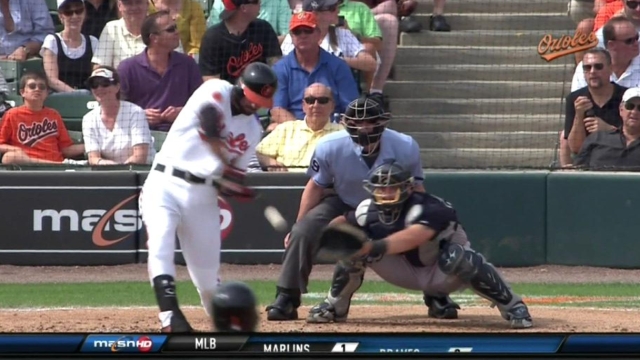 SARASOTA, Fla. -- Nick Markakis walked into O's manager Buck Showalter's office Friday morning, and the first thing he talked about wasn't his neck -- an encouraging sign in Showalter's eyes.
"When he comes in and plops down in my office and starts talking about something other than that, he feels good today," Showalter said. "He's got two or three more days on that [medication] dose pack, and then he'll have an in-depth conversation with the doctor and see what our next step is. Today's been a good day already."
Though Markakis still can't take the field, Showalter doesn't seem too worried about his lack of at-bats this spring -- and why should he be? The right fielder logged just 24 at-bats last spring before hitting .298 with 13 homers and 28 doubles in 104 regular-season games.
"That last year killed me," Showalter joked, "because now he knows he only needs about 25 [at-bats], and he reminds me of it all the time."
With Markakis still progressing, he does remain in the mix to be Baltimore's leadoff hitter -- a role that is still yet to be decided, according to Showalter. On Friday, center fielder Nate McLouth was slotted in at the top of the order against the Red Sox, while second baseman Brian Roberts -- the club's usual leadoff guy in the past -- was hitting second.
Nolan Reimold could still be in the mix, as well, with Showalter saying nothing is set in stone at this point.
"I'm still looking at everything," Showalter said. "It's way too early not to have an open mind on anything that might present itself that makes us as good as we can be. Like I've said before, I'm just excited that we have multiple options."
Paul Casella is a reporter for MLB.com. Follow him on Twitter @paul_casella. This story was not subject to the approval of Major League Baseball or its clubs.