Hendrickson hopes to land job with Orioles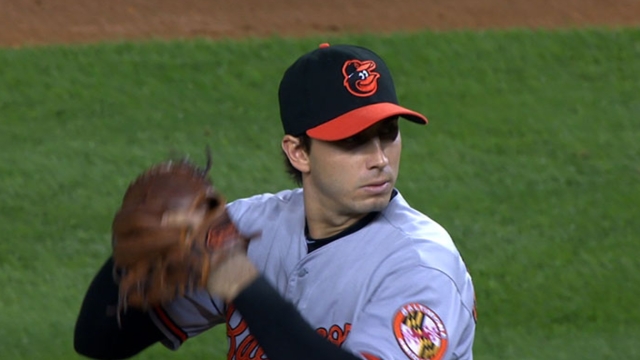 BALTIMORE -- Former Oriole Mark Hendrickson pitched for the organization on Wednesday at the team's minicamp and will continue his tryout by throwing again Friday with the hope of latching on with the organization -- or another club -- for Spring Training.
The 38-year-old last pitched in the Majors in 2011, appearing in eight games with the Orioles and allowing seven runs and 15 hits in 11 innings. He also made 24 appearances at Triple-A Norfolk that season.
"At the end of the year when nobody called, I still felt like I had something left," said Hendrickson, who played in an amateur league near his York, Pa., home in 2012. "So I started making phone calls and it started with [Orioles manager Buck Showalter], what we talked about in 2011, about just changing and trying to create some excitement and different looks for what I can offer."
Hendrickson, who is 6-foot-9, has been tinkering with arm angles and is now using a sidearm delivery that he's picked up relatively quickly.
"I'm surprisingly very comfortable," Hendrickson said of the new delivery, which he has been working on with pitching coach Rick Adair since getting to Baltimore. "I tinkered with it a little bit last year, maybe in June, and it was kind of all over the place and I figured, 'You know what? Coming into a new year, a new spring, just buy into it mentally.' I started throwing the first of December and picked it up really quickly.
"[I'm] a 38-year-old mind, but a 20-year-old sponge right now as far as being open and willing to say, 'Hey, teach me whatever.' Let's work at this and see how good I can be doing something a little different."
Hendrickson pitched part of three seasons with the Orioles, going 8-11 with a 4.80 ERA in 113 games. A well-liked veteran, Hendrickson admitted Thursday that while he never retired, throwing with a traditional motion had gotten a little stale.
"It's kind of run its course, which is fine," Hendrickson said, "but ultimately for wanting to have a career is just being open to change, and that's what I tell young people, because ultimately if you want to be in this game for a long time, you are going to have to adapt. And for me, it's was just a matter of saying, 'Hey, let's buy into it, let's see how good I can be.' I was just encouraged by the excitement I had, by the excitement Rick had and also, hopefully, Buck. ... Hopefully there's excitement there."